Attention Animal Lovers: Feral cats need our help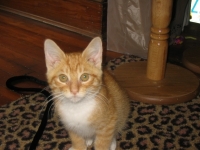 When my husband and I opened Blue Arrow Records on Waterloo Road last March, we were oblivious to the large number of feral homeless cats struggling desperately to survive within a few blocks of our business. It didn't take long before I noticed kittens and adults roaming the neighborhood looking for food. There was a poorly managed colony near our building, where someone was feeding the cats but not tending to their other physical needs. (Feeding cats only keeps them healthy enough to breed rapidly….a pair of cats can produce 2 or more litters per year and the math gets crazy after that.)
I have been in contact with a group of concerned residents in the Euclid Beach area that are volunteering their time and money to manage several feral cat colonies. I have learned a lot about managing a colony.
In neighborhoods throughout Cleveland, trap-neuter/spay-return programs (TNR) have proven to be effective in humanely managing feral and stray cats, while at the same time reducing their numbers. With TNR, the cats are trapped, spayed or neutered, vaccinated for rabies, ear-tipped and, if they're feral, returned to their original territories. A trained caretaker then provides food and shelter, and watches for problems or newcomers.
After being sterilized and returned to their territory, feral cats no longer reproduce, so the number of cats will not increase. There will be a reduction in noise – no more crying cats in heat and no more fighting. The cats will roam far less, making them less visible. There is also less of a chance for the spread of feline leukemia. Most importantly, there will be no more sick and suffering cats and kittens. All of this will benefit our neighborhood.
It is time to implement TNR in Collinwood. Whether or not you are an animal lover, we have a responsibility to each other and our community. Beginning November 23rd, the APL is offering to spay/neuter cats and kittens for $10 after receiving grants from Petsmart Charities and the City of Cleveland. If you are feeding a cat outside, please be a part of the solution to overpopulation. Call the APL for more information: 216-377-1624.
The Beachland Ballroom will be hosting The 14th Annual Rockabilly Holiday Show December 11th, where a portion of the proceeds will benefit local animal shelters and the TNR efforts in North Collinwood. If you aren't able to do hands-on work, maybe you would like to make a donation.
Read More on Opinion
Volume 1, Issue 6, Posted 7:31 PM, 12.10.2009