Hospice honors teen volunteer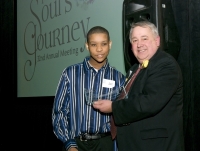 Hospice of the Western Reserve Board Chair Richard B. Whitney presents Teen Volunteer with the Chairs Award during the organization's Annual Meeting.
Hospice of the Western Reserve, for the first time, is recognizing a teenage volunteer with the Chair's Award. Dewon Hudson, of South Euclid, received the award during the 32nd Annual Meeting at St. Josephat Arts Hall. The Chair's Award recognizes outstanding contributions that further the mission of Hospice of the Western Reserve. At 16, Mr. Hudson is the youngest person to receive this honor.
Dewon Hudson has been a teen volunteer for two years. After being encouraged by a teacher, Hudson started out visiting with patients and families at Hospice House. Quickly, staff members began to recognize his dedication and commitment, so they gave him additional responsibilities.
Today, he spends two days a week at Hospice House and logged over 150 hours of service last year. In addition, he has recruited a few classmates to join the program.
"Dewon's dedication to patients and their families exemplifies the difference each volunteer can make in the journey for our patients and families," explained board chair Richard B. Whitney.
Beyond spending time with patients and their families, Hudson assists the maintenance and dietary teams and works in the art therapy studio.
About Hospice of the Western Reserve
Hospice of the Western Reserve is a community-based, non-profit agency providing comfort care and emotional support to patients and their families, regardless of age, disease or ability to pay. Care is provided wherever the patient lives - in the home, hospital, assisted living/long-term care facility, or at Hospice House, our 42-bed residential facility overlooking Lake Erie. For more information visit www.hospicewr.org or call 800-707-8922.
Read More on Health News
Volume 2, Issue 3, Posted 11:45 AM, 03.12.2010