Getting to know Frank Macuga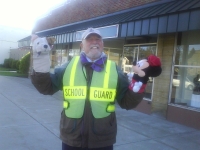 Frank at work.
View Image Gallery
Frank Macuga is the most likable person there is, salt of the earth personality, always smiling, friendly, quick conversationalist and just genuinely warm. Or at least I hope so, you see Frank is the crossing guard at Lakeshore and E. 200th Street. So you would have to encompass all of those traits especially when the cold winter weather hits.
When I went to interview Frank--wow you cannot believe how many people honk the horn at this gentleman--he knew them all by name. Funny that when I got home, how many Facebook friends questioned why I was out harassing him on his post, silly Facebook friends, so here is the reason I am out there harassing Mr. Macuga.
Frank Macuga is transplanted here from Indiana, Pennsylvania, a town, at that time (1961) of about 200 people. He is the oldest of four siblings, and has been married to his beautiful wife, Judy, for 42 years, this August. They both enjoy going to the Chautauqua Institute. A retired school teacher from Villa Angela/Saint Joseph's, Frank was employed there from 1964 to 2004, teaching math. To this day, he still receives thank you letters from former students, still using the math lessons that he taught.
Frank takes great pride in his post at the corner of E 200th and Lakeshore Blvd., getting to know all of the kids from Holy Cross and Lincoln Schools that he escorts across the busy intersection. What a great way for children to get their days started at school.
Here are Frank's questions:
What is your idea of perfect happiness?
Believe in God and do your best!

What do you consider to be your greatest achievement?
Teaching for 44 years, and receiving thank you letters from former students.
What are the qualities you most like in a person?
Honesty and trustworthiness.
What do you most value in your friends?
Dependability
What is your most treasured possession?
My Wife, Judy.
What is your greatest extravagance?
Playing the lottery Mega Million, scratch offs and Power Ball.

Who are your heroes in real life?
Joe Paterno, the head football coach at Penn State, because he is honest and dependable.

What makes you unique?
I can talk to anyone, I am friendly and I greet everyone!
If you could change one thing in your life what would it be?
I thought about that for a while and there is nothing I would change, everything is good.

What is your favorite words?
Good Morning!
And he said it with such gusto!!
Bravo, Frank!
Read More on Getting To Know You
Volume 2, Issue 5, Posted 10:58 AM, 05.06.2010