Chris Seaman: The Art of Character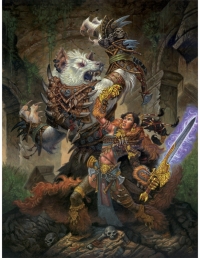 Golden Lion VS The White Ruin. Copyright Wizards of the Coast.
View Image Gallery
Elena Tomorowitz, volunteer Collinwood Observer Arts reporter and columnist, took a moment to interview Chris Seaman, the featured artist at the Arts Collinwood Gallery this month. Take a moment to get to know him, and then head down the street to see his amazing show. For free!
ET: When did you know that art was your passion, and what inspired you to get involved in it?

I knew very early on I wanted to create. I always felt a need to express myself through pictures. Comic books really inspired me. I wasn't a good student so I read a lot of comics to learn how to read when I was 7 and 8. Visual story telling captured my soul very young.

ET: Were you always interested in fantasy art?
Yes. I remember drawing a lot of knights on horseback fighting off orcs and ogres. Rushing home from school as a kid to watch the next episode of He-man or Thundercats had a hand in my creative stimuli.

ET: You come from a creative family, were they a big part of your enthusiasm for art?
Absolutely! Trips to museums and art galleries were always a part of my childhood. I remember a lot of natural history and national parks were something my parents enjoyed and my brothers and I did too. Exposure to theater and staged plays were also very important at my young age. I think it gave the storyteller edge in my art.
ET: Who is your favorite artist?
Umm...gosh, good question. There are so many it's hard to decide. But, if I must...My favorite contemporary fantasy artist might have to be James Gurney (creator of the Dinotopia series of children's book) and my favorite classical artist might have to be Hieronymus Bosch. Add about another 100 artists on top of that...
ET: Did you study from "how-to-draw" books when you were young, similar to the book you created?
Oh yeah! I bought "How to Draw Comics the Marvel Way" and never looked back. I think I still have it somewhere.

ET: Is drawing still fun for you, or has it gotten to become simply a job?
Always fun. When things get stale it's important to step out of your comfort zone as an artist. We are all creatures of habit and get stuck in ruts from time to time. I try to mix it up when I can. Maybe take a new approach or get to the museum or comic book store. Having other really talented artists as friends always helps to get a fresh pair of eyes on a
project.

The exhibition runs through September 10th and is free and open to public. Hours: Tuesday through Saturday, 11 am to 11 pm. Sunday 9am to 5 pm. The Arts Collinwood Gallery is at 15605 Waterloo Rd, in Collinwood. For more info, go to artscollinwood.org, 216-692-9500.
If you are an artist living or working in Collinwood, please tell us your story, and let us expose the neighborhood to your work. If you know or like a local artist, or one who exhibits locally, become a Collinwood Observer Arts Reporter, and interview them or do a story. As always, submit stories and pictures to www.collinwoodobserver.com. Go to the CO site, click on Member Center, sign in, and submit your story! Help Collinwood celebrate itself.
Read More on Art News
Volume 2, Issue 9, Posted 4:02 PM, 09.03.2010