Young Adult Supervisor loves her job at Nottingham Youth Center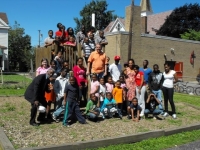 Hi. My name is Destiny Armstrong, and I am currently a staff worker for the Nottingham Youth Center (NYC). I would have to say that working here and having the opportunity to work with the kids is a pleasure! "The camp is full of fun and adventure," as one of the little campers quoted.
The children here motivate me come to work everyday. Denise Wright, whom I look at as a second mom, has the camp under control. I honestly love the camp this year way more than last summer.
It would be nice to have received more money for the campers so we could all do more extra curricular activities such as field trips, but us as a whole, here at Nottingham, we are nowhere near ungrateful.
The Y.O.U. workers are a pleasure as well. We all get along great, and most of them I wouldn't mind working with again next summer.
Here at NYC we open our hearts, and cherish our love with one another. So if your child/children are interested in joining the camp, you will definitely not have any regrets.

Destiny Armstrong is a Young Adult Supervisor at Nottingham Youth Center


Read More on Faith News
Volume 2, Issue 7, Posted 2:32 PM, 07.12.2010