Fifth Third Bank helps support the Euclid Beach Adopt-A-Beach Team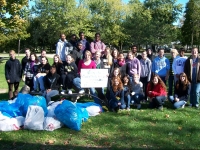 When he is not volunteering at an Adopt-a-Beach cleanup at Euclid Beach Park, Fifth Third Bank Financial Center Manager Michael DiRauso is always thinking of ways that he and his staff can support efforts to keep Euclid Beach clean.
Michael, along with Tia Little, Azalea Price, Anitria Dudley and Rachael Ambrose at Fifth Third Bank on East 185th Street are sure to place Adopt-a-Beach event flyers throughout the bank and make volunteer sign-up sheets available for anyone interested in volunteering.
A couple of weeks ago, the bank staff thought of a creative way to raise money for Euclid Beach Park. They decided to have a bake sale. On Friday October 29th, bank customers could get a little more than just money out of their paychecks! They could have a cookie or a cupcake and know that the proceeds were going towards improving the quality of Euclid Beach and protecting Lake Erie. When all was said and done, Fifth Third managed to raise close to $50 from their bake sale! Proceeds from the bake sale will go towards the purchase of three new trash and three new recycling bins to be installed next spring at Euclid Beach Park!
With our spring/summer 2011 cleanup season around the corner, The Euclid Beach Adopt-a-Beach Team hopes to continue to collaborate and get support from Fifth Third Bank and other local businesses in the community.
As Michael DiRauso puts it, "I feel it's important for 5/3rd and local businesses to support groups like Adopt-A-Beach because it brings people in the community together, raises awareness, and hopefully, inspires others to contribute their time to something they would enjoy doing."
The Euclid Beach Adopt-a-Beach Team
Read More on Green Collinwood
Volume 2, Issue 12, Posted 11:49 PM, 11.14.2010