Breakfast with Santa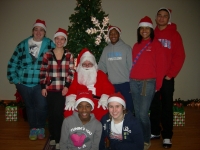 Santa pauses to take a photo with his volunteer elves from VASJ High School.
Santa had breakfast with the good children of North Shore Collinwood on December fourth at the Lithuanian Hall. Ruta Degutis made sure the Lithuanian Hall was decked out in holiday decorations. The twinkle of the lights matched the twinkle in Santa's eyes as he listened to the children's wishlists. All the children got to take their pictures with Santa. After they had their pictures taken, they were able to decorate a frame for each picture with help from volunteers from VASJ High School.
The children had french toast and sausage donated by Gus's Diner, as well as milk and juice from Lucky's Diner. Coffee for the parents was donated by Arabica. Breakfast was served up by volunteers from VASJ High School. Thank you so much to these merchants of East 185th St. for helping make this a very filling event for the children of North Shore Collinwood. Please remember during this Holiday Season to shop and eat at the local establishments in our neighborhood.
I would also like to give a big thank you to the volunteers from VASJ. They made this event truly special. As you can tell from the picture, even the volunteers had a good time with Santa. This article would not be complete without an even bigger thank you to SANTA and his helper who came all the way from the North Pole to visit with our children and hear their Christmas wishes.
Read More on Northeast Shores
Volume 2, Issue 12, Posted 10:20 AM, 12.14.2010