Northeast Shores $5000 home program continues in partnership with Cuyahoga County land reutilization corporation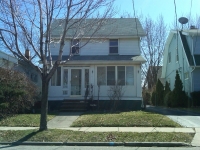 In 2009, Northeast Shores partnered with HUD to acquire foreclosed, abandoned and vacant homes located within North Collinwood. Once the partnership was developed, Northeast Shores implemented the $5,000 HUD Home Program. The $5,000 HUD Home for Sale program was designed to sell single family and two-family properties in an "as is" condition. This program presented an opportunity for residents and those whom have a great interest and desire to own property in North Shore Collinwood to become an active participant in stabilizing our community. The goal of the program was to maintain homeownership, establish a bridge between vacant properties and occupied properties and preserve North Collinwood's housing stock by requiring quality rehabilitation practices from end-buyers. To date, we have brought six out of the ten homes back to productive use. The program was measured with great success by allowing first time homebuyers the dream of owning their home, feeling a sense of pride and putting sweat equity into their home.
At this time, the $5,000 HUD Home program no longer exists. However, HUD has partnered with the Cuyahoga County Land Re-utilization Corp informally known as the Cuyahoga County Land Bank to address the significant increase in the thousands of vacant and abandoned homes that torment our neighborhoods.
Chief Operating Officer William Whitney had this to say:"The Cuyahoga County Land Re-utilization Corporation is very pleased with its partnership with Northeast Shores. The need to address blighted structures that plague our neighborhoods is critical at this time. Northeast Shores has the skills and wherewithall to take blighted properties obtained by the CCLRC and return them to a productive re-use."
The mission of CCLR is to rebuild real estate markets and protect the tax base throughout the county. CCLR's mission has allowed Northeast Shores to acquire de-valued properties and again give potential home buyers an opportunity to become a neighborhood residential partner with us to renovate and own a home through sweat equity. Currently, Northeast Shores is in the process of acquiring our first Cuyahoga County Land Re-utilization property located at 16004 Pythias Avenue, if you're interested in touring this property and potentially owning a $5,000 Northeast Shores Cuyahoga County Land Re-utilization Home Program house, please contact Camille Maxwell at 216-481-7660.
Camille Maxwell is the Real Estate Development Director at Northeast Shores.
Camille Maxwell
Real Estate Development Director Norhteast Shores Development Corporation
Read More on Northeast Shores
Volume 3, Issue 2, Posted 11:08 AM, 04.04.2011