Holy Redeemer celebrates 87th Feast of St. Anthony June 11th & 12th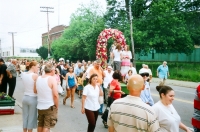 Since Holy Redeemer Church's founding in June 1924, the honoring of St. Anthony has played an integral part in the life of the parish. Starting with its annual Tredicina, or 13 days of prayer which begins Wednesday, June 1st, and concludes Monday, June 13th, coinciding with the day of his death in Padua Italy in 1231. For each Mass the church will host a different visiting clergy member who will expound on St. Anthony's virtues and relevance of his message today. Patron Saint of the poor and oppressed, St. Anthony is also well known as the Patron Saint of lost articles. Father Marty Polito, a Euclid native and Pastor of Holy Redeemer since 1996, adds that it is not just for lost things but for people who may have lost either faith, hope, and or love. This, he says, is an occasion for prayer for things needed to be found in one's life and for a time of self-renewal.
The Feast celebration will start Saturday June 11th at 5:00 pm and is held in the school gymnasium and outside in the courtyard between the church till 10:00 pm. Concession stands featuring Italian food favorites along with musical entertainment by South Collinwood's own Joel Scigliano will be provided. Games of chance and various raffles of dozens of different donated gift baskets, a flat screen television, a Summer in the City package including Cedar Point and Cleveland Indian tickets, and for cash payouts totaling $5000.
Sunday, the celebration continues following Mass celebrated by Bishop Edward Pevec with a procession of the statue of St. Anthony through the streets of the neighborhood. The procession will include the Italian Band of Cleveland and Lolly the Trolly to shuttle those who may have trouble walking the full route. Afterwards the Festival will reopen at 1:00 pm and continue until 8:00 pm. Hope to see you there.
Holy Redeemer Church, 15712 Kipling Avenue, Phone: (216) 531-3313 www.holyredeemer-cleveland.4lpi.com
William McCulloch is an amateur local historian.
William McCulloch
William McCulloch is an amateur local historian.
Read More on Faith News
Volume 3, Issue 4, Posted 8:35 AM, 06.05.2011