Collinwood High School Drummer gets state honor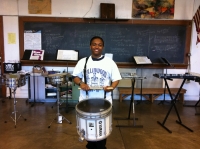 Nadia Tate of Collinwood High school had the recent privilage of being chosen for the Ohio State Fair Band.
The All-Ohio State Fair Band was founded in 1925 and continues its tradition of exceptional music in the 21st century. Composed of 200 superior musicians from 85 high schools in 47 counties from across Ohio, the AOSFB is a testament to the musical talents of young Ohioans.

The finest high school musicians in the state are selected for the band following an application process which includes an endorsement and recommendation from his or her school instrumental director and considers factors such as proficiency and instrumental needs.

The AOSFB, with students ranging from grades 9 through 12, learns nearly 60 pieces of concert music from various styles and genres, including numerous marches. John Philip Sousa's "Stars and Stripes Forever!" closes each of the performances. Throughout the 2011 Ohio State Fair, the Band will perform nearly 80 concerts.
Nadia's natural talent, dedication to rehearsal, and faith from her band director helped her to be chosen for this prestigious honor. If you're interested in helping fund this bright musicialns future, adn help with the cost to go to Columbus and particiapte, donations can be made out to Nadia Tate Musical Fund C/O Ms Houston, Comminwood High School, 15210 St. Clair ave. Cleveland OH 44110
Read More on School News
Volume 3, Issue 7, Posted 3:46 PM, 09.15.2011