Kitty consciousness continues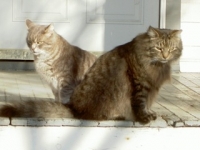 The Waterloo Alley Cat Project (WACP) is a non-profit group of passionate cat people caring for the abandoned and feral cat population around the burgeoning Waterloo Road Arts and Entertainment District by using the humane method of trap-neuter/spay-release to prevent further litters. WACP does not euthanize healthy cats. All cats are tested for FIV, given their necessary vaccinations and treatments for a range of parasites, then released back where they were found. Once the cats are released, a trained caretaker provides food on a daily basis and keeps an eye out for newcomers or problems.

WACP has been working their tails off since 2009. Some successes include: grant award from Neighborhood Connections to raise awareness and inform the public about what the group is doing and hopes to do; grant award from the ASPCA to cover the high cost of crucial FIV testing; a 'Kitty Consciousness Kickoff" party last January at The Beachland Tavern (this event opened the door to people in the neighborhood who otherwise never would have met each other had it not been for their common concern for the large number of free-roaming cats); organized and held the 3rd annual Waterloo Alley Cat Project benefit at The Beachland Ballroom. This was the most fun and successful fundraiser ever held by WACP. 3 bands played and The Ghoul emceed the event attended by approximately 250 people. Animal activist, James Ewing, spoke about his crusade to pass legislation in Ohio that will protect all animals. Kenny Yuko presented WACP with a certificate of recognition from the State of Ohio. Food for the event was donated by Chili Peppers, The Grovewood Tavern and Beuttner's Bakery. Funds were raised through donations of cat food, WACP merchandise, raffle and silent auction items donated by 75 different businesses and individuals.

All of this work is being done by a small group of volunteers with big dreams. And, the Kitty Consciousness continues with the aim of creating a world-class cat sanctuary/garden in the Waterloo neighborhood. This ambitious project is totally achievable with donations from anyone wanting to help make a difference to the quality of life for all creatures. WACP has already begun investigating the myriad details associated with this creation and hope to move forward quickly in the late Spring. Other cities around the world have made these amazingly beautiful sanctuaries. In Cleveland particularly this would address many issues all at the same time. A cat-friendly garden is a good use of vacant land thereby increasing community assets with aesthetic appeal. It is also a good place to increase local participation by providing a social and educational opportunity thereby increasing security. The benefits are numerous and exponential.

Interested in being a part of history? Your support is enormously important and would be greatly appreciated. Tax deductible donations can be made through Northeast Shores Development Corporation at 317 E 156th St. Cleveland, OH 44110. Be sure to mark WACP in the memo line. Merchandise, including tipped cat ears, and limited edition signed posters by Jake Kelly can be purchased at Blue Arrow Records at 16001 Waterloo Road. Donations are also accepted at Blue Arrow for your convenience.
Monica Doyle is a North Collinwood resident employed at the Beachland Ballroom, and a lover of cats.
Monica Doyle
Monica Doyle, North Collinwood resident, employed at the Beachland Ballroom, and a lover of cats.
Read More on Green Collinwood
Volume 4, Issue 4, Posted 5:27 PM, 05.03.2012