Fourth Annual Alive on East 185 was great fun!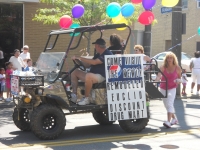 The Discount Drug Mart mobile.
View Image Gallery
For our fourth annual Alive on East 185 event, the Collinwood High School Color Guard, ROTC Cadets, Drum Line and High Steppers started our parade on Saturday, May 19th. U.S. Representative Marcia Fudge was our parade marshal, followed by Cleveland City Councilman Mike Polensek, Euclid Mayor Bill Cervenik, Euclid Council President Kirsten-Holzheimer Gail and Euclid Councilman, Scott Lynch. They were followed by over 40 different groups and organizations including VASJ's tribute to their Seniors, the big trucks by Tim's Wild Creations and the bagpipe unit donated by Paran Management. We also had Skipper from the Lake County Captains and Ronald McDonald in our parade this year. For the first time in our parade history, we had the Wolf Mobile! Discount Drug Mart participated by having a vehicle in the parade passing out water and candy. The Salvation Army had their disaster unit and volunteers walking with Lt. Chris Mauk. We also had baseball teams, daycare children walking and riding bicycles, Charter school students, and several merchants on East 185th St. participate in the parade. Thank you, to all of you who made this our best parade so far.
This year's winners for best units were: First Place - VASJ with their float saluting the graduating seniors-- what a wonderful tribute, Second Place went to Collinwood High School's Drum Line for their enthusiasm and Third Place went to Tim's Wild Creations. His big trucks and go-cart made more than one little boy's eyes get big with awe. Each one of these units will receive cash prizes for being the best units in the parade.
After the parade, East 185th Street was alive with fun up and down the street. Kool Beanz was barbecuing their famous pulled pork sandwiches and ribs. Chili Peppers, who is celebrating 10 years on East 185th this month, gave away free tacos. There was face painting at Helping Hands Day Care. Mickey's Dairy Treats debuted their new ice cream sandwich made with Chocolate Chip cookies. Many other businesses brought their merchandise out on the street in a streetwide Sidewalk Sale/Party. Many of the merchants got together and offered a page full of coupons to their establishments. Who knew we had a resident with a Food Truck? He was serving up all kinds of good food.
Robert Geise from Country Kettle Corn had so much fun he wants to come back on the weekends to sell his Kettle Korn in the LaSalle Theater Parking lot. If you did not get to try his Kettle Korn, you really missed out. We also had many non-profit groups at various spots on East 185th bringing information about their organizations to the residents of North Shore Collinwood. The ladies from the East Shore Park Garden Club were there selling plants for your home or your garden. For the second year in a row, we also had an inflatable bounce section for the children. This was the busiest part of the street as children stood in line for their chance to play with the inflatables for free. The inflatables were provided by Northeast Shores. Barbara Kamen from Shaker Hts. commented, "How much fun is this? What a wonderful event for this neighborhood. It's so great to see everyone coming out for the parade."
If you were not on East 185th on May 19, you missed a lot of fun.
Denise Lorek is the Community Organizer for Northeast Shores, serving the North Collinwood area.
Denise Lorek
Community Organizer for Northeast Shores serving the North Collinwood area
Read More on Northeast Shores
Volume 4, Issue 6, Posted 9:10 PM, 06.08.2012