Our Tunnel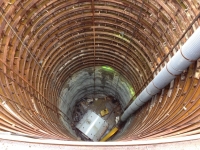 It's not just a tunnel, it's a 10 year way of life.
I was allowed to visit the Euclid Creek Tunnel site in Bratenahl this morning, hoping to see the giant worm lowered into position to start drilling its way to E185. The lowering was postponed – infrastructure work not quite finished (and when you're lowering 1500 tons, you want everything finished) but the up-close view of the project was impressive.
In fact, this isn't a project, it's a process – it's practically a way of life. Tunneling to create storage space for the stormwater/sewage overflow that currently dumps into the lake is a 10-year project. Bratenahl and the sewer district negotiated for almost three years to establish a site that would contain all the noise and mess (except for those access shafts dotted through the neighborhood) in one out-of-the-way spot; as you drive I-90, you can see the cranes. In preparation, McNally-Kiewit (the construction company) built a power station (which will power the massive drill, among other things) and a series of silos that will pump concrete to grout the sections of pipe that will be installed as the drill grinds forward (making this a single-pass project).
The construction site stretches as far as the eye can see, cluttered with massive cables and construction trailers and extremely large cranes (Mackenzie – our drill – is the second-largest working in this country at the moment, and requires a crane to match. Sort of like match-making for royalty. Which is how NEORSD's construction manager views the drill – she's not big, she's majestic).
A few facts: Keeping half a billion gallons of filthy water out of our lake is a $198 million project (but it was estimated at $214 million, so that's good). The 27'-diameter tunnel – four basketball players standing on each other's shoulders -- is being drilled 200 feet below ground (and the lake), and will run 18,000 feet – from Bratenahl to Nottingham at St Clair. Mackenzie the drill (named in the same tradition as ships – always for a female, in this case the daughter of a McNally-Kiewit employee) weighs 345,000 pounds (picture 500 female elephants) before the addition of 9000 pounds of cutting blades (tungsten carbide steel disks that will drill away without replacements through our butter-soft shale until 2013). She was made in Germany and assembled in China (which has some experience with huge construction jobs) before being shipped through the Panama Canal to Philadelphia and delivered here by truck – in 65 pieces that had to be welded together.
"Mining" is scheduled to start in July; as each section is completed, the drill driver will hand the controls to a second driver who maneuvers huge concrete cylinders into position -- creating a tunnel lining -- while on-site silos pump down concrete for grouting.
You can find out more, and track progress, at Youtube.com/neorsdccr, @WallyWaterdrop&@neorsd, Facebook yoursewerdistrict.
Read More on
Volume 4, Issue 6, Posted 9:07 PM, 06.08.2012