Something to look at: "Blink"-- E. 185th's first eyelash salon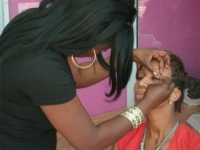 Getting an eyelash treatment at Blink.
View Image Gallery
On May 19, during the parade on E. 185th street, Tina Hayden and crew members applied eyelashes to women in the community for free. Tina Hayden is a resident of Cleveland and has lived here all her life. Since she was a little girl she dreamed of one day opening her own business. Whoever said dreaming was a waste of time was lying because if you put time and effort into your dreams you can make them come true.
On June 24 Tina Hayden will be opening E. 185th's very first Eyelash salon, "Blink." This will be good for our community because it's new and original. Every worker will be applying Individual, Strip and Semi permanent eyelashes for very affordable prices. Blink will also be accepting interns who have gone to schools specializing in applying eyelashes.
Blink is located at 642 E185th street. Congratulations to Cleveland's own Tina Hayden!
In order to accomplish your dreams, you have to take the steps. For those who have dreams, don't give up because it all can happen in the blink of an eye.
Breauna Sweeney has been writing since she was a little girl and is now in the process of writing a book. I look forward to writing articles in the Collinwood Observer.
Breauna Sweeney
I am a 20 year old woman who is looking for a future career in Journalism.Ive been writing since a little girl I started with writing poetry,music and now I am in the process of writing a book. Besides those things I love writing as a whole.I feel like I am a very creative and opinianated person,I have a positive attitude and I handle critiscim well.I look forward to writing articles in the Collinwood Observer.
Read More on
Volume 4, Issue 5, Posted 9:17 PM, 06.08.2012