Collinwood resident praises the YWCA Early Learning Center for excellence in childcare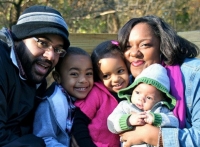 All three English children have been enrolled in the Early Learning Center
View Image Gallery
One of the best kept secrets in all of Cleveland is the Early Learning Center at YWCA Greater Cleveland. Yes, you'll find children at play, and early childhood education at its best.
Collinwood residents Darlene and Johnny English have seen all three of their children grow and learn at the Early Learning Center, and they especially appreciate the devotion of the staff. "I appreciate their experience and believe that they love each child and recognize their unique responsibilities in helping to develop each individual. I have personally seen several teachers go above and beyond their job descriptions to do what was in the best interest of the child," says Ms. English.
Everyone on staff is doing what they love most – working with children and helping families establish a solid educational foundation for their children's future.
Early Learning Center parents are kept engaged and up to date through a Parental Advisory Council, a monthly newsletter highlighting achievements and daily communication with teachers. "The center is designed to serve as an extension of the home, so we welcome and encourage parental and family involvement. Our success is the result of the partnerships that we form between parents, their children and the teachers," says Program DirectorChristine Davis.
English agrees that the Early Learning Center keeps parents very well informed of their children's progress. "I have very good relationships with the staff and I appreciate how communicative they are, be it orally or written in daily sheets, planners or the newsletter. They also support me as a resource when I have childcare questions and developmental questions," she says.
Take a quick glance into any of the classrooms at the Early Learning Center and you will see that the children in this unique program are a reflection of the local community. The Early Learning Center welcomes children and families of all races, ethnicities, religions, socio-economic status and other dimensions of difference.
"One of the hallmarks of all of our programs at the YWCA is our strong commitment to diversity and inclusion," says Davis. "At the Early Learning Center, we have created a wonderful environment where diversity is celebrated – and this is greatly valued by the parents and families of the children enrolled here. In teaching children to respect each other, we are establishing a cultural and social foundation that will be with them for life."


What you need to know about the Early Learning Center before you go
The Early Learning Center provides a high-quality, comprehensive, age-appropriate learning environment for children ages ranging from six weeks to five years.
The YWCA is proud that the Early Learning Center has earned a two-star rating by the State of Ohio's "Step Up to Quality" program, indicating it has exceeded the licensing requirements with its evidence-based curriculum, low teacher-child ratios, high teacher education levels, focus on professional development and effective administrative practices.
In addition to the Creative Curriculum model of learning, the center emphasizes science and math education. The Early Learning Center provides engaging activities and a project-based learning approach which allows infants, toddlers and pre-school aged children to develop at their own pace.
Over the past few years, students from the Early Learning Center pre-kindergarten class have graduated on to Cleveland's most prestigious schools including: Cleveland School of the Arts, Campus International School, Intergenerational School, E-PREP, Cleveland Heights School District, Shaker Heights School District and Urban Community School, to name but a few.
The Early Learning Center is open from 7 a.m. to 6 p.m. Monday through Friday and is currently enrolling children 6 weeks to 5 years of age. It is conveniently located at 4019 Prospect Avenue in Midtown Cleveland – minutes from downtown and University Circle. For more information, contact Program Director Christine Davisby phone: 216.881.6878 x234 or email: cdavis@ywcaofcleveland.org
Children enjoy a wide variety of age-appropriate activities as part of the highly acclaimed Creative Curriculum. Experienced and enthusiastic teachers help make learning fun while building the children's motor skills, social skills and development abilities.
English highly recommends the center to other parents of young children, "because of the caring nature of the teachers, their level of experience, the cleanliness of the center, the lesson planning, and their commitment to providing the best childcare for each child." Visit today and experience the positive impact of the Early Learning Center within your own family!
Margaret Brennan, YWCA Greater Cleveland
YWCA Greater Cleveland - Eliminating racism, empowering women
Read More on School News
Volume 4, Issue 6, Posted 1:54 PM, 07.14.2012