Gov. Kasich signs Mayor Jackson's "Cleveland Plan" into law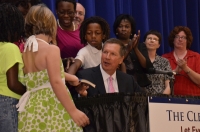 Gov. John Kasich signed the "Cleveland Plan for Transforming Schools" into law Monday inside the auditorium at John F. Kennedy High School, an action that trumpets a new beginning for the 43,000 students enrolled in the Cleveland Metropolitan School District.
In signing the legislation, Kasich thanked members of the Cleveland Teachers Union and their leadership for being receptive to the transformation, which came at a cost to union membership. "But they demonstrated that they could put the kids first," Kasich said. "It's fantastic what is happening here."
What is happening, said Kasich and Mayor Frank Jackson, who led the effort to get the measure passed, is that Cleveland's schools have the legislative muscle to improve learning and reshape educational outcomes. The legislation removes obstacles that, CEO Eric Gordon had said, stalled the changes he had sought to remake a school system that produced far too many dropouts and not enough positive outcomes.
Under the legislation, Gordon and his leadership team can, among other things:
Make tenure and seniority secondary considerations in layoffs, which will allow the District to retain high-performing and specialized teachers.
Let the District share property tax money with selected charter schools.
Give the city and District a voice in which charters can open new schools in the city.
Set up a salary differential for teachers, which means performance becomes the No. 1 criterion for pay. The better the teacher, the higher the teacher's pay.
Two of the more sweeping options allow for longer school days and for year-round schooling.
Now, Kasich said, Gordon and his administration have to make the plan work. "I was talking to Eric here, and I said, 'It's all on you now, Eric. You screw up, we're blaming you,'" Kasich joked. He told the audience at the signing that the focus of the transformation plan has always been students. For the students' sake, those who were critics of Mayor Jackson's original proposal were willing to discuss it, and what all sides came up with was a plan that had broad support. "Sometimes we have to remind ourselves that education's for kids, not for adults," Kasich said. "In this case, kids have been put first."
First unveiled in February, Mayor Jackson's so-called "Cleveland Plan" led to an unlikely alliance, which included Kasich, Democrats and Republicans in the Ohio Legislature, Gordon and his administration, leaders of the Cleveland Teachers Union and members of the Cleveland Board of Education. "With this legislation, we now have the possibility – and really a great possibility – of creating a different outcome," Jackson said.
Kasich said the city of Cleveland and its school leaders had had enough of those negative outcomes. They resolved to fix education
Read More on School News
Volume 4, Issue 7, Posted 1:26 PM, 07.14.2012