Neighborhood pride shows itself on E. 156th Street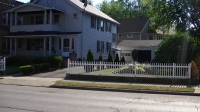 Mr. Williams' beautiful home.
In the midst of the housing crisis and foreclosures, neighborhoods have been left with empty and abandoned homes, leaving the city to cut the lawns. Most of the neighborhood does their part in keeping the outside of their homes appealing.
Willie Williams is one of Collinwood's home owners who consistently maintains his properties. His stately-looking home on East 156th Street is always well-groomed. His well trimmed lawn and colorful flowers stand out and attract attention from cars driving by, people walking by, and get loads of compliments from all. Councilman Mike Polensek has complimented Willie Williams publicly on several occasions at the East 156th Street meetings. Owning his home for over twenty years, Mr. Williams says when he first purchased his house there was no paved driveway and there was no grass.
"I keep my home well-manicured because I care about where I live. I hope others will follow and show pride in where they live." Mr. Williams has pride and interest in Collinwood. He regularly attends the East 156th Street meetings and can be heard sharing his concerns, voicing his opinions and offering suggestions.
Thank you, Willie Williams, for showing pride and beauty in our neighborhood.
Rhonda Hudson-Williams enjoys writing inspirational and thought-provoking articles.
Rhonda Hudson-Williams
Rhonda Hudson-Williams is an Ohio Resident who enjoys writing inspirational and thought-provoking articles
Read More on Forum
Volume 4, Issue 6, Posted 1:52 PM, 07.14.2012