New CAO gets glimpse at what CMSD has in store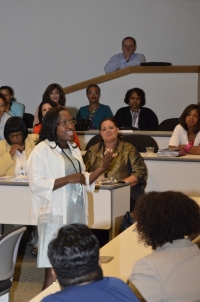 Michelle Pierre-Farid, the new Chief Academic Officer for the Cleveland Metropolitan School District.
Michelle N. Pierre-Farid doesn't officially begin her job as chief academic officer for the Cleveland Metropolitan School District until Aug. 7, but a look into her office on the sixth floor of the Main Administration Building shows Pierre-Farid is getting a jump-start on her duties.
She spent a week in her new office this month putting a foundation in place for what she describes as an "exciting" opportunity. Pierre-Farid talked to staff, met principals and also attended groundbreaking ceremonies at the new Almira PreK-8 School on the city's West Side.
But on her office wall was the real work she had done. Scribbled on the large sheets of lined-yellow paper hung on one wall, she had notes that came from brainstorming sessions. One theme stood out: "One Team, One Goal."
"I believe in teamwork," said Pierre-Farid, the outgoing executive director of New Leaders, a Washington, D.C.-based organization that trains principals. "I believe in the collective purpose of the team."
The goal, of course, is to produce a premier school district, and that goal served as one of the reasons Pierre-Farid applied for the CAO position, a job Eric Gordon held before he stepped into the CEO's role a year ago.
To achieve that goal, she intends to use the Cleveland Plan as her blueprint. Even before accepting the CAO job, Pierre-Farid had been studying the plan. It spoke to her philosophy on education, she said. The plan was proactive; the plan was innovative. "This was a plan I hadn't seen anywhere else initially," she said. "This was an urban district, serving mostly kids who looked like me, and that makes me excited."
So did the description of the CAO's position. It was non-traditional, which called for a leader who embraced a more collaborative approach.
Pierre-Farid, a former principal, is bringing that sort of pedigree to Cleveland. She has worked in urban schools in New York City, Baltimore County and Washington, and she has extensive experience in leading principals.
"I'm still a principal at heart," she said. "I still look at: 'Is this going to cause more stress for principals? If it is, what can I do to support them?'"
Read More on School News
Volume 4, Issue 8, Posted 1:55 PM, 08.11.2012