"Summer Bridge" helps teens find right path to success in life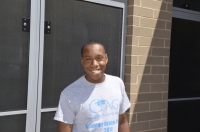 Eric Webb, well-prepared for Collinwood High in the fall.
Eric Webb, a rising ninth-grader at Collinwood High School, sat in the middle of the cafetorium with 90 other students and listened as attorney DeAngelo D. Little, talked about the expectations for him and his classmates in the Class of 2016.
"What we're saying to you here – and what we're trying to show – is it takes work," Little said. "You can say you want to do anything in the world, but it takes work."
Little's message is one that organizers of "Summer Bridge," a program of the Cleveland Metropolitan School District that bridges the gap between eighth and ninth grade, wanted students like Webb to hear.
For four weeks this summer, black and Hispanic males gathered three times each week at George Washington Carver School to learn skills that will help them navigate the academic and social pitfalls of ninth grade.
Summer Bridge is the little brother of the Closing the Achievement Gap (CTAG) program, a federal Race to the Top initiative that fights to keep black males like Webb and Hispanic males as well from dropping out. The success of this effort is built on early intervention, which is what both programs provide.
The cost to students like Webb? Their time.
"It's been worth it," said Webb, who plans to play basketball for Collinwood. "I came because I wanted a better experience in high school. I want to go to college – play basketball somewhere. But I know I have to do good in high school first."
Webb is one of six students in Summer Bridge that are headed for Collinwood this fall. Through Summer Bridge, he got to meet Michael Russell, the CTAG coordinator whose task it is to monitor Webb's progress.
Russell worked alongside coordinators from other high schools this summer to expose Webb and his teenaged peers to the challenges that await them in high school. The challenges are many for the teenagers, ranging from how to handle bullying to how to make it to class on time.
Yet the teens came prepared to deal with those challenges, said Arlin Hill, the CTAG coordinator at Carl Shuler Academy.
"Rather than being out on the block and doing some craziness, you decided to come here and hang out with men," Hill said.
The men who ran the program know they can't change anybody in a week – or in four weeks. What they can do, however, is inspire. They have given each teen a vision; they have given each teen a plan.
Webb likes his.
"I came here not knowing what it'd be like," he said. "I wasn't really afraid. I just didn't know. But I think I'm leaving this program a lot better off than I was before I came."
Read More on School News
Volume 4, Issue 7, Posted 1:41 PM, 08.11.2012