Way back on Waterloo-- Part 2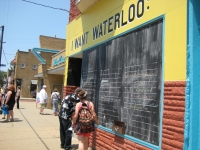 Festival goers chalk their suggestions for more ways to enjoy Waterloo.
View Image Gallery
Growing up on East 157th Street, south of Waterloo Rd. between 1953-1973.
Reflection of an old lady.
I remember…
The buses and the bus stops on Waterloo. Finding money in the field next to the bakery where the bums passed out. Lady fingers on Halloween from Zallar bakery. Central National Bank robberies! Police and finger print dust.
Polka bands on Saturday nights. People dressed up walking down Waterloo. Weddings at the Croatian Home and the Slovenian Home. Watching the bride and the beautiful dresses. Cars parked along all the streets. Kid across the street, joy-riding in these cars. Brick streets and the sound of the rain falling on them. Watching the Euclid Beach July 4th fireworks from the top porch.
The trains moving through Collinwood yard. Grandpa and Daddy worked for New York Central. The sound of the railroad whistle: 6:50 am, 7:00 am, 11:30 am, 12:00 am, 4:00 pm. Church bells rang out at 6:00 am and 6:00 pm. Dinner was at 6:00, we started running when we heard those bells.
Remember when the freeway cut through the neighborhood and took the end of our street? Grandma's house on Daniel Ave. was destroyed and they moved to Grovewood Ave. Mom told us NOT to play in the abandoned houses. We did anyway. Trucks speeding on the freeway, the noise and the dust. Late at night hearing drag racing on the South Marginal's marked quarter mile.
This is the Waterloo I remember. I enjoy that Waterloo made the transition to keep alive a great neighborhood. Walk on Waterloo today or in my Wayback on Waterloo.
Read More on
Volume 4, Issue 7, Posted 1:45 PM, 08.11.2012