White City - Collinwood's other Amusement Park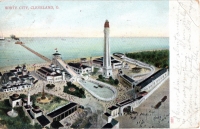 White City Park
View Image Gallery
As part of the Northeast Ohio Regional Sewer District's 3 billion dollar "Project Clean Lake," Lake Shore Boulevard is currently torn up from Nottingham Road in the east to the Easterly Wastewater Treatment Plant in the west in order to replace and enlarge storm water drainage and sewer lines. Just over a hundred years prior, the lot where the treatment plant sits at East 140th Street and Lake Shore Boulevard was abuzz with an entirely different type of activity.
On May 26, 1900, the 27 acre lot with a half mile of lake frontage, Manhattan Beach, opened as a private recreational park complete with a dance hall. It was a popular site for various organizational picnics and outings. Lakeside Construction Company, headed by Edward C. Boyce, who had planned and built Dreamland in New York City and who was then building White City in Chicago, purchased Manhattan Beach on January 31st, 1905.
Renamed White City, with a budget of $250,000, they totally transformed the park with the addition of various rides, theaters, and wild animal acts. But almost from the start the new park seemed plagued by a number of problems. On May 25th, 1906 the park burned almost completely to the ground. Though quickly rebuilt, the following year severe storms did significant damage to much of the park. Other problems such as trainers being mauled by some of the big cats, issues with the trolley line service that brought visitors to the park and probably having competing near by Euclid Beach Park, which didn't charge a general admission charge to enter the grounds, led to the parks closing July 5th, 1908.
William McCulloch is a Collinwood resident and an amateur local historian.
William McCulloch
William McCulloch is a Collinwood resident and an amateur local historian.
Read More on History
Volume 4, Issue 7, Posted 1:59 PM, 08.11.2012