Check out the Collinwood Rec Center!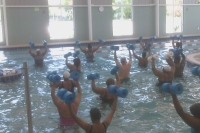 Water aerobics class at the Collinwood Rec Center.
Hey fellow seniors, check out the warm, shallow lap and splash pools at our new rec center. Free!! Warm, beautiful facilities including changing rooms for disabled and families for privacy. I can forsee that we will need more benches in the locker rooms as facilities become known.
There are two basketball courts with a track around them and an exercise equipment room plus a room for crafts, another for aerobics and one with a ping pong table, Wii, TV, billiards and foosball tables. There is also a room with computers though it is locked and probably only available at certain times for classes.
There is a circular two-story slide for those who like to make a splash. I imagine it's crowded after 3pm when school lets out. Children 9 and younger need to come with an adult. There is a childcare room also. Beautiful art work adorns the entry hall & muted greens are accented with bright colored artwork. Power assisted doors make it easier for the disabled. They open at 7am and close at 7:30pm, but the pool opens at noon.
The Rec Center is located at 16300 Lakeshore across from McD's & Euclid Beach, with lots of parking.
See you there!!!
Read More on
Volume 4, Issue 8, Posted 10:15 AM, 09.16.2012