Collinwood valedictorian looks forward to challenges of college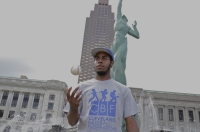 Denzell plans to take baseball as far as he can, but he's not going to let it get in the way of his classroom work in college.
View Image Gallery
Denzell Anderson, valedictorian at Collinwood High School, is a few days away from heading to Sylvania, Ohio, for his first day of classes at Lourdes University. He's not leaving his home without a few jitters, although his are no different than other freshmen face.
Nor are his expectations.
Anderson, 18, knows the world is open to him, and he wants to explore it all. So much of that world fascinates him. He wants to travel, but more than anything else, Denzell Anderson wants to learn. Learning is what drives him – that and his need to excel at whatever he does.
In his mind, second is never good enough.
"I want to be Number 1, Number 1 and Number 1," says Anderson, the tenor of his voice absent the machismo found in too many recent high-school graduates. "Nobody's going to get in my way. You're in my way, you're going to get rolled over. I've got something I've got to protect."
That "something" is his aspirations, he says. They tug at him from all sorts of directions. While some people might call it a lack of focus, Anderson prefers to see it as his inquisitive mind running at 100,000 rpm.
His inquisitiveness and competitiveness explain why, in high school, he often stayed up late into the night studying. His inquisitiveness and competitiveness also explain why he took classes at Tri-C while at Collinwood.
"It wasn't easy," he says.
Some things have to be sacrificed; sleep, hanging out on the street corner and wayward-thinking friends were three of them. He sacrificed them, too. He had enough to keep him busy.
Anderson calls himself a perfectionist – a straight-A student with athletic ability. He played soccer, basketball and baseball for the Railroaders. He also swam his senior year when he heard the school's swim team needed help.
Baseball was his passion, though. Baseball is the sport he will drag along with his clothes, comforter and computer to Lourdes. While he's there on an academic scholarship, he intends to play baseball.
He thinks his speed and athleticism will benefit the program. He can see how baseball might benefit him; it will keep him busy. But in the back of his mind, he can see more from baseball. He can picture himself in a Major League uniform, roaming the outfield and tracking down fly balls like a modern-day version of Willie Mays.
Baseball might be a long shot. Ballplayers who honed their talent on the sandlots in Greater Cleveland don't make it to the big leagues much anymore. Yet that fact has not stopped any ballplayer in the Senate League from dreaming big dreams – not even a pragmatist like Anderson.
Still, he plans to take baseball as far as he can, but he's not going to let it get in the way of his classroom work. He wants to add summa cum laude or magna cum laude to his list of academic honors, finding a nice place for one of them on his mantelpiece right next to valedictorian.
Listen closely, and Anderson will make it clear that he prefers academic honors to batting titles or Gold Glove awards. That's the reason he's going away to college: to return an educated man of the world.
Like so many freshmen, he isn't altogether certain what he hopes that education will allow him to do. He's confident, however, he can master whatever he decides to pursue. He likes science a lot, which suggests to him that a career with NASA isn't a bad choice.
"I don't know what I want to do – really," Anderson says. "But I know I'm going to give back – give back to Cleveland. As far as a job or a career, scientist is all I can think of."
Read More on
Volume 4, Issue 9, Posted 10:02 AM, 09.16.2012