Happy Birthday, Oliver Hazard Perry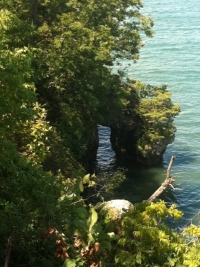 "Look-out Point" on Gibralter, off of Put In Bay. This is the highest spot on the island where Perry's lookout kept watch for the British ships. Today it is part of the Ohio State University's Stone lab campus.
The Collinwood Nottingham Historical Society (CNHS) got together on Thursday, August 19, 2010 for a Birthday Party. Not any ordinary birthday party but one to honor the hero of the Battle of Lake Erie. "August 23rd marked the 225th Birthday of Oliver Hazard Perry as well the 191st anniversary of his death. Perry's accomplishments have always been celebrated and, as a newer historical society with a relationship with Perry here in Collinwood, we too wanted to celebrate his accomplishments," stated the officers of CNHS.
Perry was born on August 23, 1785 to Captain Christopher Raymond Perry and his wife Sarah Wallace Alexander in South Kingstown, Rhode Island. He grew up in a naval family during an era of great naval heroes & battles and during the "Federal" era in these United States of America which had so recently come from fighting a Revolutionary War (1776-1783). He was educated in Rhode Island and also lived in South Carolina sailing ships preparing for a career in the United States Navy.
In April 1799, he was assigned to serve on his father's ship and saw combat off the coast of Haiti then in rebellion. During the First Barbary War ("to the shores of Tripoli") he commanded the ship USS Nautilus during the capture of Derna. Then at the time of the War of 1812 he was given command of the US Naval forces on Lake Erie. He supervised the building of a fleet at Dobbin's Landing in Presque Isle Bay in Erie, Pa and then commanded that fleet during the famous encounter at Put-In-Bay known as the Battle of Lake Erie on September 10, 1813 where he faced Captain Barclay, who served proudly with none other than the British War hero, Lord Nelson (died 1805). Perry's victory protected the entire Ohio Valley from British invasion and gave Americans control of the Great Lakes. Perry was 26 years old.
Perry was well qualified for the command. He was associated with the Navy all his life. He excelled in all his duties and history shows that he was gifted with an immortal spark of genius and greatness. It was his untiring energy, his relentless zeal, and his control over the men associated with him that enabled him to successfully complete the building of the fleet of ships at Erie, Pa and accomplish the victory over the British. Overall, he achieved victory through adversity.
Unfortunately, in 1819, during an expedition to Venezuela's Orinoco River, Perry died of yellow fever. He was 34 years old. He was originally buried in Port of Spain, Trinidad but later taken back and buried in Newport, Rhode Island where a monument to his achievements stands today. He left behind a wife and five children along with siblings who included Matthew Galbraith Perry.
To place Perry in perspective of the times, it was the "Federal" era between the old "Georgian" period and before the more industrialized and progressive "Victorian" era. In the young United States it was a time of growth and westward expansion, religious revival, the defining of culture and the testing of our diplomatic and military willpower especially against the great powers of Europe. It was a period of epic battles (ie Trafalgar and Waterloo) and the Battle of New Orleans, and it was also a period of great elegance and beauty (ie. the time of Beethoven and Joseph Hayden and Jane Austen novels).
As for the inhabitants of the Collinwood community during this period, the approximate fifteen families lived in log cabins in the center of the village with almost unbroken forest between them and the other settlers of Doan's Corners or Newburgh. These forests were inhabited by bears and wolves that preyed upon the settlers' sheep and hogs by night, while "malaria and the ague" was an ever present fear. These were hearty pioneers though and they persevered. During the War of 1812 it was those living in what was then Cleveland who fled east – the Euclid Township folks did not and saw the ships of Perry's fleet anchor off Euclid Beach before heading further west.
We celebrate Oliver Hazard Perry and his accomplishments because his victory not 50 miles west of our beachhead was a victory over tyranny. We are reminded that we too are commanded to service of the same high degree of efficiency, unselfishness and heroic devotion as that which was rendered in battle 199 years ago.
Read More on
Volume 4, Issue 8, Posted 10:12 AM, 09.16.2012