Branches Art Space features neighborhood art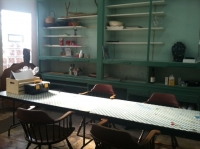 Artists' work area at Branches.
View Image Gallery
The mission of Branches Art Space is to become a creative place connecting the areas between Collinwood and Shore Cultural Centre. Branches is an arts cooperative providing the opportunity for emerging artists to grow alongside professional artists, giving them a space to work and display their art. Artists will share their skills with the community by holding art classes for all ages.
I met with Susan Brandt on a Monday morning in September at her Lakeshore Blvd. salon, Beachland Hair Design to talk about her latest business venture, Branches Art Space. We discuss her new co-op gallery space as she rolls and sets a client's hair. Multi-tasking seems to be second nature for Susan. She finishes up the style and then we walk over to the gallery which is located only a few steps away in the same commercial strip.
She explains her co-op concept which is a shared studio for artists to create work as well as to display it in the gallery. As I look around the gallery, my eyes light up. The studio work space is large and full of light and has plenty of storage. It is an artist's dream. The group studio is available to all co-op members as a work area or can be used as a workshop classroom area to conduct art classes. It is a perfect arrangement for an artist that does not want the overhead of a studio expense or is simply looking for local gallery representation.
The gallery, which has only been open for a few months, continues to look for new artists to join the group. The co-op is home to artists who pay a monthly fee to rent studio and gallery space. The artists also work in the gallery. The gallery is open on Saturday and Sunday from 12-3pm or by appointment. Branches Art Space currently exhibits mixed media, photography, printmaking, pastel and oil painting, bead work and jewelry, fused glass, fiber arts and more. The gallery also hosts special events three times a year. Stop in and visit this exciting addition to our arts community and enjoy the talent of local and neighborhood artists. Branches Art Space is located at 18322 Lakeshore Blvd.
For more information, please call Susan at 216.543.9832.
Alenka Banco
Business Concierge
Read More on Northeast Shores
Volume 4, Issue 10, Posted 2:42 PM, 10.05.2012