Collinwood High School student sees bullying summit as making a difference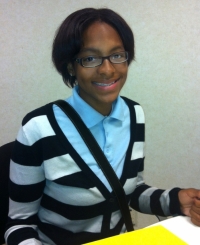 Collinwood High School student Shemain Baldwin: "No-one is immune from bullying."
Shemaine Baldwin, a ninth-grader at Collinwood High School, listened with interest Sept. 14 as she and a roomful of student leaders from high schools across the Cleveland Metropolitan School District talked about bullying.
A week earlier, she and the others had screened filmmaker Lee Hirsch's movie "Bully," a raw, unfiltered look at bullying in a small, Iowa town. Now, they were gathered at the Barbara Byrd Bennett Development Center to dissect what the movie meant.
In Baldwin's world, bullying is hardly uncommon. Look long enough and she knows she'll run across an incident of bullying in hallways at Collinwood. No student in the room, however, doubted a high school in Cleveland – or a high school elsewhere in America – would be immune from the problem.
District administrators weren't afraid to admit as much either.
That's the reason they teamed with "Facing History and Ourselves," a nonprofit organization that supports academic progress and civic learning, to organize "Not on Our Watch," a week-long summit on bullying in which Hirsch's documentary served to drive the conversation.
So here was Baldwin, a handful of her Collinwood classmates and scores of students she had never met together in workshops to explore bullying in-depth. Many of them shared stories so intimate they seemed to struggle to find the right words.
"I was bullied," one boy said. "It's not easy to stand up for yourself: 'He's bigger; he's stronger.' So it's not easy."
Every person in the breakout session was familiar with stories like his, even Baldwin. That's why she had plenty to say about Hirsch's documentary. She showed empathy for Tyler Long, the Chattsworth, Ga., "geek" who committed suicide, and for Alex, a 14-year-old autistic student who was the butt of bullying at an Iowa school.
"People think that I'm different, I'm not normal," Alex said in the movie. "Most kids don't want to be around me. I feel like I belong somewhere else."
Baldwin didn't see what happened in Alex's tiny school as being far removed from what teenagers encounter in large, urban schools. Neither did Hirsch. He saw himself in Alex: a teenager that a bully used as a punching bag.
"I thought about it a lot," he said of his connection to Alex. "I helped him tell his underdog stories."
Bullying is about power or, rather, power abused. Watching that abuse left teenagers angered and appalled at the meanness, at the cruelty and at the insensitivity they saw unfold in Hirsch's 90-minute film.
They raised questions about how prevalent bullying really was.
Was bullying just an inner-city problem or small-town problem? Is bullying less likely in communities where boys and girls come from affluence?
No, Hirsch told them.
"The good school could be the poorest in an urban area," he said. "The worst, most horrifying school, could be the best school in a really nice, predominantly white suburb. These distinctions don't exist in this struggle."
At the initial screening on Sept. 7, Hirsch wondered aloud why more principals, teachers, parents and students didn't treat bullying as a bigger problem. Despite statistics that speak to the scope of the problem, he thought school administrators tended to do what educators in his movie did: dismiss bullying as adolescent mischief.
But District administrators used data in deciding to treat bullying as a serious concern, said Denine Goolsby, director of CMSD's Humanware Department. Goolsby's department, which is leading the District-wide anti-bullying initiative, conducted a survey last year with fifth, seventh and tenth graders, and the data proved that bullying was an issue. "We already knew it," Goolsby said. "But you know, you have to have the numbers to back it up."
Those findings troubled Goolsby and other administrators. They took those findings and are trying to turn them upside down. The result was "Not on Our Watch."
Showing Hirsch's documentary to student leaders across the District was a start, because it made them aware of how deep into the fabric of American education bullying is. They saw in the bullies in small-town Iowa what they have seen in the bullies here: meanness toward the weak and meek.
"To see somebody get bullied really hurts me," said Eugene Smith, an 11th-grader at John Adams High School. "I mean, I was a victim of bullying before. I got out of it because I stayed strong. I never let someone take my pride."
Smith knows he might be an exception. He's a football player – a slim, muscular teenager who might make others think twice about pushing him around. But not everybody can stand up for himself or have others who can stand up with him.
That's what troubles Smith and Baldwin about bullying. Too many people ignore it or simply watch it unfold.
"People can help," Smith said. "Some choose not to, but there's always a person you can talk to, as Lee said. What most people have to do is talk to someone and work it out with a person you trust."
That's part of the message Hirsch wanted his film to leave. He wanted students to treat bullying like a cause or like a movement. They need to make bullying behavior uncool in their schools.
"Don't forget it's a very real issue," Hirsch said. "The stakes are really, really high when it comes to this kind of experience. I was bullied myself, which is why I made this film."
He need not worry. Student leaders won't forget. They can't forget. They have an obligation beyond previewing his documentary and participating in the workshops. They have signed a pledge to work to end bullying. Now, they go back to their schools and share the lessons they learned with principals, teachers and other students.
And Baldwin learned plenty. Hirsch's film focused her thinking. She can see the summit as helping her play a leadership role in the anti-bullying movement that has gained momentum in Cleveland's public schools. She's blunt about how serious the problem is.
"People are killing themselves over this," Baldwin said. "It's really not even necessary."
Read More on School News
Volume 4, Issue 10, Posted 2:37 PM, 10.05.2012