Turning on the lights at Waterloo: Project Lightswitch is on its way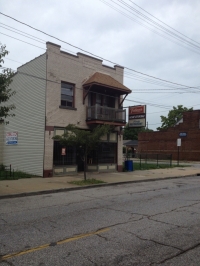 Painting and carpentry has begun at the old Fotina's. It's still going to be a nice simple neighborhood place----but a little more colorful and fun.
View Image Gallery
Where does a guy in the advertising hall of fame and producer of PBS documentaries get off trying to lead the redevelopment of Waterloo?
I think it's exactly the right credentials, all pride aside. I retired from advertising and television about 8 years ago, sold my agency and production company in NYC, and somehow got into the hospitality business. It's just like advertising but with lower check averages and nicer customers! Since starting Erie Island Coffee about 4 years ago, now we have 'ABC the Tavern' on West 25th, 'XYZ the Tavern' on Detroit & West 65, and 'The Ontario Street Cafe' downtown. In a few months, our new ABC will open at University Circle in the new Uptown Development.
But the real pertinent news is what we're doing on Waterloo. After surveying these few blocks over the past 3 years, a few things became very evident:
-This strip is prime for development as the next (but a grittier version of) Tremont and Ohio City.
-But you can't do it one venue at a time. It needs mass, density---population, which means a number of high-drawing places to fit right in with the revered Beachland Ballroom, Music Saves and other pioneers.
-So, I decided to take on the personal mission of getting a lot to happen quickly. Project Lightswitch. Flipping on Waterloo in one fell swoop.
The plan is to cause 6 or more new establishments to all open simultaneously, target date October 19, 2013 when the $4 million streetscape is scheduled to be finished. Despite how slowly things generally "improve" in Cleveland, I figured that if you work with but are not dependent upon the civic redevelopment resources, you can cut out a ton of red tape and wasteful energies. I'm 63. I don't have time to go slow at anything!
So, within the first month of this project, I purchased the two properties: Harbor Pub, and Fontina's. Two months later, Fotina's is re-opening as 'Chloe's Kitchen & Diner.' Harbor Pub is getting bids for "revitalization." And I've been visiting with every property owner, tenant and merchant who will talk to me----and the results have been very encouraging.
Can a private citizen march in and make changes to a slow-developing "development?" Absolutely. And plenty of people are looking to come aboard.
For example, our dear friend Steve Schimoler from Crop is at the starting line exploring his options to open his own rock-oriented place over here. Another great friend and colleague, Sam McNulty, is also on the hunt, as is Nate "MF" Willliams, Courtney Bonning and many others, mostly near-west side hospitality operators. And we're all in it for the right reason---not to change Waterloo, but simply to polish it up!
The key is held by existing property owners. We are urging each of them to up their games. "If you want a tenant, we'll get you one; if you want a buyer, we'll get you one," I tell them each. The only way this can go wrong is if owners simply sit on their properties, and even worse---if they sit on them in a state of disrepair.
Now is the time for property owners to act. I can help. So can Northeast Shores. There isn't a bundle of money available for improvement, but there are cash-paying buyers ready to turn these properties in to part of Project Lightswitch.
We're going to turn this street on, and we're going to do it in a year. But don't just watch! Participate. Talk to the owners. Tell them to get off the dime and unite to take Cleveland's indie arts/music destination to its peak.
It's going to happen. Count on it! If you are an owner or operator interested in being part of it, contact me. But don't call just to chat. Call to make a difference.
Alan Glazen is a veteran of advertising and television production in his hometown, Cleveland, Ohio. He is partners with Randy Kelly and Linda Syrek in A-Z Taverns, Inc., a hospitality company focused on the inner city of Cleveland.
Alan Glazen
Alan Glazen is a veteran of advertising and television production in his hometown, Cleveland, Ohio. He is partners with Randy Kelly and Linda Syrek in A-Z Taverns, Inc., a hospitality company focused on the city of Cleveland.
Read More on News
Volume 4, Issue 10, Posted 2:18 PM, 10.05.2012