Saving Lives Through Spay and Neuter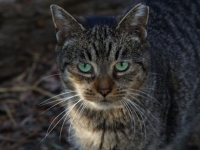 The Euclid Beach Feral Cat Project has been practicing TNR (trap, neuter, release) since its inception in 2009. To date, the Project has assisted nearly one thousand cats! The accomplishments of the EBFCP during 2012 include the "TNR" of 129 cats, the surrender of 175 cats to the Cleveland APL, 11 adoptions by the EBFCP itself, and the birth of only 2 kittens in the monitored, feral community! This represents the saving of over 730 cats from the streets of North Collinwood areas including Wildwood Marina, The Euclid Beach Mobile Home Park, the state park pier, and Euclid Beach Villa Apartments. These numbers also reflect the spay and neutering of 233 cats. To give you an idea of how many cats this project is actually saving consider these statistics: The average number of litters a fertile cat can produce in one year is 3. The average number of kittens in a feline litter is 4–6. In seven years, one female cat and her offspring can theoretically produce 420,000 cats. Only 1 in 12 of those 420,000 cats born find a home. These are facts and the work of The Euclid Beach Feral Cat Project cuts down on the numbers in these statistics dramatically.
The primary focus of the Project is the Euclid Beach area where cats and kittens are routinely "dumped". The EBFCP now safely and securely houses and cares, daily, for over 128 - now healthy - residents. The Euclid Beach Feral Cat Project works closely with the Cleveland Animal Protective League to find homes for those friendly enough to be adopted. Those that remain as residents of the Euclid Beach area are strictly monitored, and provided with food, shelter and medical care. The dedication of those that run the EBFCP is overwhelming, unfaltering and constant.
The largest problem this group faces is the abandonment of unwanted cats, and the failure of owners to spay and neuter their pets. In an attempt to rectify this problem, EBFCP will be offering 100 FREE spay and neuters in 2013 at a new spay/neuter clinic opening in Euclid this spring! EBFCP hope that this clinic will assist low income residents as well as the elderly who may encounter difficulty with the trip to the Cleveland APL. This local, low cost facility will make spay and neuter much more affordable and convenient for many cat owners.
The Project is very sincerely appreciative of all of the support it has been given over the years. Without the support of generous donors, this work would not be possible and many, many cats would reproduce unabated, languish in pain while awaiting medical care, or perish due to the elements and lack of food.
This group is run entirely by volunteers and exists solely due to funding of caring individuals. The new Euclid project will require funding in addition to the monumental costs of feeding, housing, spaying and neutering, trapping, adoption services, medical care. Currently over 200 individuals support this wonderful group, but more and continual support is always needed and very, very much appreciated. The funds donated go directly to these animals who are so greatly in need, and have no other means of survival.
Please consider supporting the noble and much needed endeavors of the Euclid Beach Feral Cat Projects. They have a direct and very pronounced impact on the cats of our area - they are saving cat's lives and assisting pet lovers with their various issues. Their work can not continue or escalate without the help of compassionate individuals so please consider a donation, of any amount, to these amazing and dedicated animal lovers. Your caring is a powerful symbol of your love, respect and mercy. You will be proud of supporting this "hands on" project that, daily, protects, saves and cares tenderly for the many deserving cats in need.
Northeast Shores Development Corporation is a non profit group which acts as a fiscal agent for the EBFCP. Please send donations to this group at 317 East 156th Street, Cleveland 44110. Please note EBFCP on the memo line of your checks so that funds can be properly dispersed and quickly expedited. All donations are tax deductible.
Ginger Hannah and Brian Licht are to be commended for their unending dedication to these cats, and would also like to express their sincere gratitude for any and all support.
Thank you on behalf of Ginger, Brian and the many animals they protect and save.
Please visit the website for more information. http://ebfcp.org/ (Maintained by Beth Gregerson)
Read More on Euclid Beach
Volume 5, Issue 2, Posted 10:34 AM, 03.19.2013