Guerilla Haiku Hits Cleveland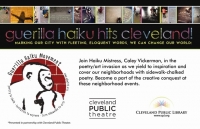 Haiku Free-For-All
Make your mark with our Guerilla Haiku team as we enthusiastically engage all library-goers in haikuing
(in sidewalk chalk) around the library entrance. Soon, the entrance will be decorated in the words of its
community: the funny, the fierce and the fabulous. All haiku will be documented with digital images and
shared on social media! Go haiku!
Thursday, June 12th from 12:30 to 3:00 p.m.
Collinwood Library Branch
Monique Christian-Long
I am the Library Assistant Youth Emphasis at the Cleveland Public Libraray , Collinwood Branch. Working in the arts has been a part of my lifelong journey through writing, singing, photography and playing music. I want to contribute some of those talents to this community and inspire youth to do the same.
Read More on Library News
Volume 6, Issue 5, Posted 11:44 AM, 06.09.2014