What's Happening at the Collinwood Library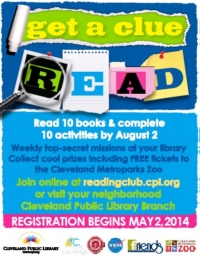 Expand your summertime reading fun with exciting weekly missions at the Collinwood Branch Library. Earn cool super sleuth gear! Please contact the branch for more information and to register for the Summer Reading Club.
Tuesdays, June 10th through July 29th 1:30 p.m.
Week 1 (June 9 – 14) Roll Call
Calling all junior detectives-in-training: report to your neighborhood library. Create your own detective hat and earn your junior detective badge. Your mission? Summer fun!
Week 2 (June 16 – 21) What Lies Beneath?
Junior sleuths: join us for an hour of mystery fun and suspense. Will you be the first to track down all the clues and guess what lies beneath the mystery box? All super sleuths earn a special field notebook to use in future investigations!
Week 3 (June 23 – 28) I Spy!
I spy with my little eye ten items in the library. Can you spot ten items and write your own rap lyrics or poem to share your spy skills? Complete this mission and earn your super spy magnifying glass!
Week 4 (June 30 – July 5) Forensics Fun
Learn about the ways forensic science is used to solve crimes. Explore the amazing science behind fingerprinting, reading tooth impressions and professional handwriting analysis and earn your super sleuth ink pad.
Week 5 (July 7 – 12) Hidden in Plain Sight
Look carefully and you'll discover hidden clues and mysteries right in front of your eyes! Learn about invisible ink, the secrets of the dollar bill and the mysteries of mirror writing and earn a secret decoder pen.
Week 6 (July 14 – 19) Hidden in my 'hood
Every neighborhood hides hidden treasures and geographic gems. Hidden treasures are waiting for you to discover them right around the corner or at your neighborhood library. Pick up your scavenger hunt list at your library. You'll earn your own secret spy flashlight when you track down all the items on the list.
Week 7 (July 21 – 26) Mystery Maker
Create your own mystery book and challenge your family and friends to guess what's inside. Earn a pair of secret spy sunglasses when your book is finished.
Week 8 (July 28 – August 2) Case Closed
You made it! Celebrate your great detective achievements on family fun day! Pick up your official detective bag and enjoy popcorn and a mystery movie!
Natasha Wells
Caroline Peak, Branch Manager
Natasha Wells, Children's Librarian
Collinwood Branch
856 East 152nd Street
Cleveland, OH 44110
216-623-6934 – cpl-collwd@cpl.org
Read More on Library News
Volume 6, Issue 5, Posted 11:47 AM, 06.09.2014