What's Happening at the Collinwood Library?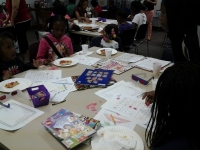 Summer is in full swing at the Collinwood Branch! Please stop by for a visit or take part in one of our great programs!
Free Lunch Daily Monday - Friday 11:30am-12:30pm for children ages 1 to 18 years old.
The Get A Clue READ! Summer Reading Club continues at the branch through Tuesday, July 29th when our finale will be held at 1:30 p.m. Until then, join us every Tuesday at 1:30 p.m. for a new mystery activity (each child will receive a prize for participating in the weekly activity). In order to be eligible for the free tickets to the Cleveland Metroparks Zoo the required 10 books and 10 activities must be entered online at http://cpl-summer-2014.bibliocommons.com by August 2nd. Please call or stop by the branch if you have any questions.
Is your child Ready for School? This program will prepare your little ones for school by using fun, hands-on activities and awesome books to teach social skills such as sharing, making new friends, cooperation, and more! Instruction is given by a certified teacher. Registration is required and is reserved for students entering prekindergarten or kindergarten. Call 216-623-6934 to register.
Wednesdays, July 30-August 13 at 10:30 a.m.
Computer and Internet Basics (4-part series)
Learn how to use a mouse, navigate in Windows and save files. Learn how to use the World Wide Web and Plain Dealer e-Edition. Saturdays in July (starting July 5th) from 11:15 a.m.-12:45 p.m.
Natasha Wells
Children's Librarian @ the Collinwood Branch of The Cleveland Public Library.
Read More on Library News
Volume 6, Issue 6, Posted 1:32 PM, 07.12.2014