It's Never Too Late To Thank a Veteran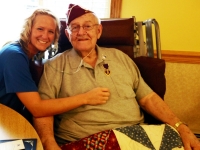 Hospice of the Western Reserve helps veterans find peace at life's end. Collinwood residents will join Americans across the country to observe Veterans Day on November 11t, a special day to salute the men and women who have bravely served our country. These fellow Americans have made sacrifices in defense of freedom. Honoring our local veterans includes supporting them throughout their entire lives.
For some veterans, however, nearing the end of life can bring anguish over past war experiences. Did you know that Hospice of the Western Reserve, our community-based hospice headquartered right here in Collinwood, is one the nation's largest nonprofit legacy providers of care? Or that the organization has made a special commitment to those who have served in the Armed Forces?
Over the past two years, the agency has provided care to more than 3,200 veterans throughout Northeast Ohio, including many of our friends and neighbors in the community. Its Peaceful & Proud program provides training for clinical care teams, so they can address complex issues such as post-traumatic stress disorder and substance abuse. Each Veterans Day, a special ceremony, complete with military Color Guard, music, refreshments and the individual "pinning" and recognition of each veteran who resides at David Simpson Hospice House and who wish to be honored, takes place.
The hospice also conducts many more such recognition ceremonies across Northeast Ohio each year, ranging from intimate gatherings involving a single hospice patient and family to large public events where a hundred or more veterans are honored. This year, more than 2,000 veterans will be honored and personally thanked in public recognition ceremonies by Hospice of the Western Reserve. Many more will be recognized privately, by the bedside.
"Northeast Ohio is home to a very large veteran population, and many vets are nearing the end of life. Some of the most important work we do is helping them find peace," explained Bill Finn, chief executive officer. Finn said to help address these needs, volunteers who have served in the military are paired with veteran patients, providing the camaraderie of shared experiences. Counseling, storytelling, art and music therapy, and legacy work are just a few of the ways the community-based hospice helps veterans achieve the peace they seek at the end of life.
Hospice of the Western Reserve is also actively involved with We Honor Veterans, an innovative program of the National Hospice and Palliative Care Organization offered in collaboration with the U.S. Department of Veterans Affairs. The hospice is among an elite group that has achieved a "partner level four" designation from the national program, given only to hospices demonstrating the highest level of commitment to veterans.
If you or a veteran you love would like more information about the services provided by Hospice of the Western Reserve, visit hospicewr.org, or call 800.707.8922. And remember, this Veterans Day or any day at all... It's never too late to thank a veteran!
Laurie Henrichsen
Laurie Henrichsen, Public/Media Relations Manager, Hospice of the Western Reserve
Read More on Front Page
Volume 6, Issue 10, Posted 2:57 PM, 11.17.2014