Collinwood Neighborhood Catholic Ministries Gives Gift of Presence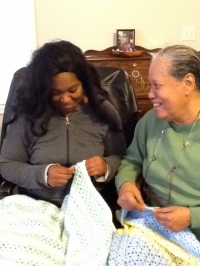 Every Friday afternoon, under the instruction of Kim Reynolds and Antoinette Robinson, several ladies meet at the Collinwood Neighborhood Catholic Ministries (CNCM) House (corner of Royal and St. Clair) to knit and crochet lap robes for residents of area retirement homes. According to Sr. Felicia Petruziello, CSJ, "This program not only provides anopportunity to build community among the ladies but also gives them a chance to be of service to the elderly in our community".
Collinwood residents meet on Saturday morning every other week for seven sessions in two cycles at the CNCM House. Under the guidance of Mr. William Denihan and Mr. Douglas Rothschild, they learn to express themselves in creative ways through painting. Both men do this because they love to paint and want to share their joy. At the close of class Sr. Joan Gallagher, CSA hears "the sounds of joy as the finished paintings are displayed.
An expungement clinic is offered at the CNCM House in the spring and in the fall. Persons who may have up to two misdemeanors or one minor felony can get these crimes erased or expunged from his or her criminal record. Sr. Margaret Hartman, SND and has arranged for lawyers from the Cuyahoga County Public Defender's Office to conduct the clinics. Sr. Mary Ellen Brinovec, OSU, executive director, states that "there have been over 200 calls inquiring about the fall expungement clinic. Clearly there is a need for this service."
Sr. Mary Ann Baran, SND visits residents of the Euclid Beach Club Apartments three days a week and helps with the community supper at Saint Mary's Church twice a month. "My ministry is a ministry of being present and listening/being with folks, most of whom are elderly and poor."
At the other end of the age spectrum, Sr. Mary Ellen Brinovec, OSU offers doula services to those Collinwood High School students who choose to be assisted. These services include doctor visits, labor and delivery. She states that "it has been very gratifying to be able to help in the birth of babies and to assist young moms with their nutrition and infant care. All of the families helped have been very grateful for the extra TLC they have received from their Doula."
According to Sr. Madeline Muller, HM, program developer, CNCM plans to establish the following new programs:
"Cooking for Kids" will help young mothers, children and teens, learn ways to prepare healthy, tasty and nutritious meals.
Improvisational Drama Workshops will help teens learn positive ways to resolve conflicts and in turn influence their peers.

Drumming for Peace will empower the staff of Apples of Gold Child Care train children and eventually their parents to be agents of peace through drumming. Also, the staff of Mellinia Senior Centers will train residents and eventually their families to improve their communication skills through drumming.

Computer drop-in Center will give Collinwood residents the opportunity to learn computer skills and resume writing when they drop into the CNCM House.
Collinwood Neighborhood Catholic Ministries was established as a result of the Women with Spirit exhibit and convocations that began in 2010. During the past two and a half years they have worked very hard to get to know the people of Collinwood, to be known by them, to listen, learn and respond to the unmet needs of Collinwood citizens
Sr. Madeline Muller
Sr, Madeline Muller, H.M. is the Program Director for the Collinwood Neighborhood Catholic Ministries( CNCM).
Read More on Faith News
Volume 7, Issue 1, Posted 2:29 PM, 01.26.2015