Euclid Youth Competes in Poetry Slam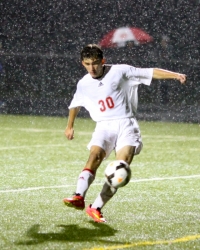 Devlinbleu Chambers is a 15-year-old from the Sunny Cliff Drive neighborhood. He will be competing against other Cleveland area youth reading original poetry. Four winners from her event will move on to the national Youth Poetry Slam this summer in Atlanta. The event was at Spaces Art gallery on Saturday, March 28.
The finals will be a cumulative slam. You will see all 8 poets in all 3 rounds. Their scores from each round will be added together, and that is how the team will be determined.
BNV is an international youth poetry slam convention and competition. This event features teams from all over the world, not just the United States! There are open mics, workshops, networking, fun events, town hall meetings and of course a multitude of slams!
Louise Foresman
13-year resident of Collinwood and Beulah Park. I moved to Cleveland from Seattle. I sing (with my husband, Dan Chambers, and neighbors Leila and Dave Snodgrass) with the Attention Deficit Glee Club. My work is updating the 211/First Call for Help database. 211 lists 10,000 different health and human services that serve Cuyahoga, Geauga, and Medina counties.
Read More on Art News
Volume 7, Issue 4, Posted 8:45 PM, 04.03.2015