Girl Scouts Appreciate your Support and Sweet Tooth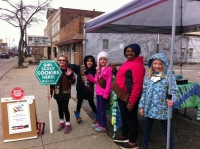 The Girl Scouts in Brownie Troop #71092 and Cadette Troop #71440 appreciate the support shown by the neighborhood at their recent "drive-thru" cookie booths at the LaSalle Theater. Northeast Shores was kind enough to provide the space and promotion to the troops, which together serve more than 35 girls in the Collinwood/Euclid area. Over the two Friday nights, the girls sold more than 350 boxes of cookies for a profit of almost $250 (the troop keeps about 69¢ per box sold).
The girls earned credit towards their individual and troop goals, and got important experience marketing their products, loudly! They practiced teamwork in taking turns for the various jobs at the booth, improved their people skills in serving customers driving every which way, and most important, had lots of fun despite the cold. Both troops are planning camping trips and will be making choices over the coming months on how to spend their earnings on leadership development experiences including field trips, badge programs, and community service projects.
Read More on Front Page
Volume 7, Issue 4, Posted 8:45 PM, 04.03.2015