Celebrate Summer with Books on the Beach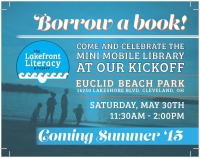 Beginning Saturday, May 30, 2015 "The Lakefront Literacy Project" will bring literature and a love of learning to Euclid Beach Park with a custom-crafted mini mobile library. Part of the renowned "Little Free Library" network.
Join us from 11:30 a.m. until 2:00 p.m. for a celebratory kick-off. Supported by Neighborhood Connections, Cuyahoga Arts and Culture, Cleveland Neighborhood Progress, Cleveland Public Library Collinwood Branch, Northeast Shores Development Corporation, Geis Companies, Half Price Books, and generous friends, family, and neighbors like you!
Be among the first to borrow a book to read at the park or to take home and enjoy. Donate a book (or two or three) on or before May 30, 2015 and be entered to win a literacy prize pack!
We are also pleased to feature a live science fiction reading from local author Marie Vibbert. Marie is an IT professional from Cleveland Heights. She has sold work to Asimov's and Analog, among other science fiction magazines. Until recently, she was a lineman for the Cleveland Fusion women's tackle football team, and she has ridden 15% of the roller coasters in North America. You can learn more about Marie at her website, http://www.marievibbert.com
11:40 a.m. Official ribbon cutting
11:45 a.m. Enjoy a slice of pizza while you browse the shelves
12:15 p.m. Local author reading with Marie Vibbert
1:00 p.m. Celebrate with a slice of cake
1:15 p.m. Make your own bookmark
1:45 p.m. Raffle drawing, donate a book for a free entry into the raffle (must be present to win)
All summer long, visit the library on the promenade to borrow a book, magazine, or newspaper for free during weekends, holidays, and special events. With a rotating collection for children, teens, and adults including Russian language speakers, you'll always find something new.
Volunteers… Have an hour to spare? Email us at read.euclidbeach@gmail.com and let us know of your interest and availability for staffing the library. The position is fun and easy, and yes you can sit down and read a magazine on the job!
Books… and more books and magazines! Spring clean your bookshelves and donate the books your children outgrew, the bestseller you read once and never will again, the magazines collecting dust on your coffee table. Email us at read.euclidbeach@gmail.com and let us know you're happy to purge and donate!
Learn more: www.facebook.com/lakefrontliteracy
Allison Lukacsy
Allison is a North Shore Collinwood resident, artist, neighborhood cheerleader, and frequent contributor to the Collinwood Observer. She is one of the founders of The Lakefront Literacy Project.
Read More on Green Collinwood
Volume 7, Issue 5, Posted 4:11 PM, 05.18.2015