Healthy, Active Collinwood!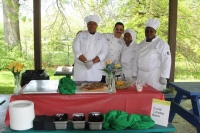 Our commitment to community health was kicked off May 17, 2015 with Energize Euclid. There were health screenings and vendors from Euclid and Collinwood. The Euclid YMCA introduced their Fitting in Fitness program, costing only $10! This 8 week program includes educational discussions, one hour weekly boot camp, health screenings, and full access to the Euclid YMCA. Plus, a chance to win a FitBit! To sign up, call 216-731-7454.
Collinwood 2015 events are about to happen. These events blend arts with health initiatives. We had 21 amazing proposals, and some of those will be coming to fruition. In the meantime, be sure to register for VASJ's Escape on the Lake 5K at http://www.hermescleveland.com/roadracing/events/escapeonthelake.asp.
Read More on Front Page
Volume 7, Issue 6, Posted 12:53 PM, 05.31.2015