Local Residents Invited to Support Villa Angela- St. Joseph's "Escape on the Lake"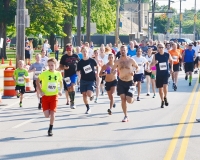 Hospice of the Western Reserve is collaborating with Villa Angela-St. Joseph High School (VASJ) to support the school's annual fundraiser, "Escape on the Lake" 5k Run and 1-Mile Walk on Saturday, July 11. Registration begins at 7:30 a.m. and the race begins at 9 a.m. at (VASJ), 18491 Lakeshore Blvd., with the Finish Line at the shoreline of Lake Erie, on the property adjacent to VASJ and David Simpson Hospice House. This park-like property, formerly home to the Christian Life Center, and is now part of Hospice of the Western Reserve's Lakeshore Campus.
Members from the surrounding community are encouraged to run the 5k, walk the 1-mile, or cheer on the athletes. Bring a picnic lunch or purchase something delicious from one of the food trucks at the event. Bring your kites, lawn toys/games and a blanket and enjoy a beautiful afternoon on the Lake Erie waterfront.
This is a 20th Anniversary celebration for the David Simpson Hospice House.hospicewr.org and a fundraising event for Villa Angela-St. Joseph High School vasj.com/escape-on-the-lake. Register for the run on the Hermes website: hermescleveland.com/roadracing/events/escapeonthelake.asp.
Laurie Henrichsen
Laurie Henrichsen, Public/Media Relations Manager, Hospice of the Western Reserve
Read More on Front Page
Volume 7, Issue 7, Posted 11:02 AM, 07.12.2015