Silhouette Productions Presents "42nd Street"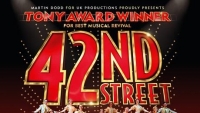 Auditions for 42nd Street Director: Frank Lucas Musical Director: Ginny Rodeig Choreographer: Tara Mirabile
Tuesday , August 4 and Thursday, August 6 Monday, August 10 for auditions and callbacks Tuesday, August 11 callbacks 7:00 to 9:30 pm Shore cultural center 291 East 222nd Street Euclid Room 241 upstairs No recorded music or accapello. Accompanist available Bring sheet music and be prepared to dance(tap, jazz, Ect.) Questions call 216-219-3630. Show dates October 16,17,18,23,24&25
This is the story of hard work, being in the right place at the right time, talent and love. 42ND STREET is a celebration of Broadway and the people involved in shows. It focuses on aspiring chorus girl Peggy Sawyer, and takes us along her journey. Musical hits include You're Getting to Be a Habit with Me, Dames, I Know Now, We're In the Money, Lullaby of Broadway, Shuffle Off to Buffalo and Forty-Second Street. Every audience enjoys watching the underdog succeed
42nd Street tells the story of a humble, naïve young actress named Peggy Sawyer who has come to audition for a new Broadway musical,. Unfortunately, due to her nervousness, Peggy arrives to the audition late and misses her chance to join the chorus. Luckily, Peggy soon catches the eye of the famous director, Julian Marsh, and he gives Peggy her big break. However, the show's aging leading lady, Dorothy Brock, quickly grows to dislike Peggy. On opening night, Ms. Brock falls and breaks her ankle. Panic spreads through the company, as the show is doomed for closure, until it is suggested that Peggy take the roll. In only thirty-six hours, Peggy learns twenty-five pages, six songs and ten dance numbers and becomes a star.
Principals(4 female; 3 male)
Dorothy Brock — an established Broadway star
Peggy Sawyer — young, talented and hopeful
Maggie Jones — co-author of "Pretty Lady"
Ann Reilly (Anytime Annie) — chorus girl, sub-principal of "Pretty Lady"
Julian Marsh — Broadway show director
Billy Lawlor — juvenile lead of "Pretty Lady"
Bert Barry — co-author of "Pretty Lady"
Sub-Principals (from Chorus)(3 female; 3 male)
Phyllis Dale — chorus girl
Lorraine Flemming — chorus girl
Gladys — chorus girl; singer, non-speaking
Andy Lee — dance director
Pat Denning — former vaudeville partner of Dorothy's
Abner Dillon — "angel" for "Pretty Lady"
Supporting
Diane Lorimer — chorus girl
Ethel — chorus girl
Oscar — rehearsal pianist
Mac — stage manager
Frankie — stagehand
Young Man with Clipboard — stagehand
2 Thugs — employees of gangster Nick Murphy; one of them non-speaking
Doctor — Philadelphia theatre physician
Waiter — Gypsy Tea Kettle employee
Millie — dancer; non-speaking
Willard — theatre electrician; non-speaking
Robin — dancer; non-speaking
2 Policemen — dancers; non-speaking
Pickpocket/Thief — dancer; non-speaking
Young Soldier — dancer; non-speaking
Gangster — dancer; non-speaking
Conductor — the music director of the theatre pit orchestra; non-speaking
Ensemble
Theatre Personnel
Singers and Dancers of the Chorus
Charlotte Mirabile
Artistic Director of Silhouette Productions and employee of Messina Bakery
Charlotte Abraham Mirabile
Euclid Class of "71"
Read More on Art News
Volume 7, Issue 6, Posted 11:40 AM, 07.12.2015