October Garden Party- Seeking Volunteers!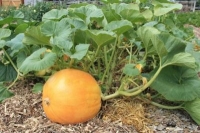 Who: All ages
Where: The Collinwood Friends Garden, at the corner of E 156th and Corsica
When: Sunday, October 4th, 2-6pm
What: Community members are in need to help the garden clean up after the growing season; this involves pulling plants up, weeding, spreading compost, and tarping the beds to prepare for winter. We will have raffle prizes, music and food to celebrate getting together for a job well done!
Why: Doing this will repair the overused soil and prevent weeds from growing in the fall to spring, which means an earlier start to the growing season since we won't have to spend so much time preparing the beds. You can also learn how to extend the growing season into the fall and prepare your own beds for winter.
Your help is greatly appreciated!
P.S. Don't forget to send in your favorite recipe for the Healthy Collinwood Cookbook! Email entries to BrittainyQuinn@gmail.com or mail them into:
Northeast Shores Development Corporation
Attn: Collinwood Friends Garden
317 e 156TH St
Cleveland, OH 44110
Read More on Green Collinwood
Volume 7, Issue 9, Posted 6:40 PM, 09.08.2015