Volunteers Needed for Wildwood Park Fall Cleanup Day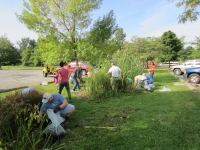 Please join Euclid Creek Watershed program partners as we conduct restoration activities at the wetland and cleanup the bioswale garden.
When: September 19 from 10:00 a.m. - 12:00 p.m.
Where: Wildwood Park - Euclid Creek Reservation, Lakeshore Blvd. and East 174thStreet Cleveland, 44110, Meet at Wildwood Picnic Pavilion
Dress for weather (long sleeves, pants, work boots, gloves)
Register on Cleveland Metroparks' Website by September 16.
All groups welcome, children under 18 must have adult supervision and fill out and bring a Cleveland Metroparks waiver signed by a parent/guardian.
Claire Posius
Euclid Creek Watershed Coordinator, Cuyahoga Soil and Water Conservation District
Read More on Green Collinwood
Volume 7, Issue 9, Posted 6:40 PM, 09.08.2015