State and Local Officials Gather to Recognize HGR for its Contribution to Ohio Manufacturing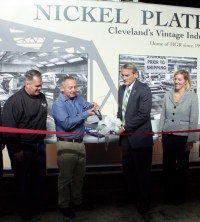 On Oct. 1, HGR Industrial Surplus celebrated Manufacturing Day with a site-dedication ceremony and customer appreciation sale that included 20 to 50 percent off most items in the showroom and resulted in more than 225 people visiting and one of the company's top sales days.
Customers began to arrive before 7:30 a.m. to shop for used industrial surplus goods, including one whose mother built GM auto bodies at the facility. Guests continued to arrive for the 11 a.m. dedication ceremony emceed by Mark "Munch" Bishop of WKNR 850 AM, who shared a brief history of the site before turning the floor over to Brian Krueger, one of HGR's owners who introduced many honored guests.
Euclid Mayor Bill Cervenik acknowledged the $10-12 million of improvements that HGR has begun making to the fire system, roof and parking lot, saying, "I remember dodging chuckholes as big as your car in the lot when it was owned by the previous landlord." Council President Kirsten Holzheimer-Gale said a few words and introduced Ward 1 Councilwoman Stephana C. Caviness, as well as Pearletha Taylor, president of the Heritage Park Neighborhood Association, then presented HGR with a friendship plaque from the city. Krueger acknowledged Cheryl Stephens of the Cuyahoga Land Bank who helped negotiate the site acquisition.
Christopher Diehl, Cleveland city architect and board member of Ingenuity Cleveland, invited guests to Ingenuity Festival, Oct. 2-4, and introduced the two artists competing in the first Iron Architect competition to build a unique seating environment using some materials and equipment from HGR's showroom. Matt Fieldman of Manufacturing Advocacy Growth Network (MAGNET) announced the STEAM Resource Center, to be housed in HGR's customer lounge, which will provide information on manufacturing organizations and careers.
Bob Torelli, Euclid High School Science Department chair, introduced some members of the Euclid High School Robotics Team, who later demonstrated their competition battle robot, and accepted an award, from HGR, on behalf of the team to recognize its outstanding accomplishments in the 2015 AWT Northeast Ohio Regional RoboBots Competition. Torelli says of the team members' dedication, "They met twice per week, including three hours every Saturday morning from November through April. They had to learn CAD, the gear ratio for belts, how to program motors, how to problem solve weight issues and, most importantly, how to work together."
Finally, Eric Synenberg, from Ohio Treasurer Josh Mandel's office, issued a proclamation acknowledging HGR's contribution to manufacturing and its participation in National Manufacturing Day, after which Sheila Gibbons of the Euclid Chamber of Commerce produced large scissors for the official ribbon-cutting ceremony in front of the new Nickel Plate Station site-timeline wall before everyone adjourned to enjoy lunch together at tables set up in the showroom.
Read More on Front Page
Volume 7, Issue 10, Posted 5:41 PM, 10.12.2015