UpStage Players' Announce Shrek The Musical Jr. for Early-January 2016; Will Hold an Open House/Audition Workshop in December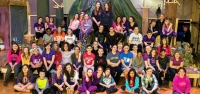 UpStage Players, one of Northeast Ohio's most enduring non-profit children's theatre companies, invites area youths, ages 7 to 15, to audition for the troupe's Spring 2016 musical, Shrek the Musical Jr. Known for its no-cut policy, UpStage Players "works for the kids" of Greater Cleveland.
Auditions will be held on Saturday, January 2, 2016 for 7- to 11-year-olds and on Sunday, January 3, 2016 for 12- to 15-year-olds. Registration begins at 9:30 a.m., with auditions starting at 10:00 a.m. sharp and ending at 1:00 p.m. on both days. No latecomers will be admitted. All children will be required to stay for the entire time.
Auditions will take place at the North Collinwood-based organization's performance space, Cleveland Public Library's Memorial-Nottingham Library Branch Auditorium, located at 17109 Lakeshore Boulevard in Cleveland. Those auditioning are asked to dress in comfortable clothes and shoes, as well as prepare to perform a 1- to 2-minute song from a Broadway musical, bring a current photo and a $10 registration fee.
Application and emergency forms are available online at www.upstageplayers.com, so participants can complete the forms in advance to bring with them to the audition. Actors will learn choreography and sing for a panel in a friendly, nurturing environment. UpStage Players is a teaching theatre, so all levels of experience are welcome.
In addition to auditions, UpStage Players will conduct a free Audition Workshop/Open House on December 5, 2015 from 10:00 a.m. to 2:00 p.m., also at Cleveland Public Library's Memorial-Nottingham Library Branch Auditorium. Interested children and their families are encouraged to come and check out all that UpStage Players has to offer. Workshop activities will feature the group's forthcoming production, Shrek the Musical Jr. and will include dancing, audition tips and character building. Attendees can come in for a few minutes or the whole time. Refreshments will be available for purchase.
Shrek the Musical Jr. will be performed on March 18, 19 and 20, 2016. Rehearsals will begin in early-2016. Tech week starts on March 8 and ends on March 17. All actors, actresses and tech crew members will be expected to be present for every tech week rehearsal.
The signature endeavor of UpStage Players each year is the organization's annual spring musical. After several months of learning and collaboration, the efforts of dozens of children and adult volunteers come to fruition through the professionally-produced junior edition of a Broadway-caliber musical.
The mission of UpStage Players is the dedication to the child performer, instilling a love of theatre while building leadership and community. The non-profit group was founded in 1994–1995 with 30 children and a vision to create love and respect for the performing arts. Beyond evolving into a strong organization of nearly three times as many children today, two keys to the success of UpStage over the years have been its unwavering no-cut policy and its army of committed volunteers. The children of UpStage Players come from varied backgrounds and neighborhoods throughout Northeast Ohio, yet they all enjoy a demonstrable transformation from everyday kids into accomplished artists. For more information, e-mail info@upstage-players.com or visit www.upstageplayers.com.
Read More on Art News
Volume 7, Issue 11, Posted 11:41 AM, 11.25.2015