Robots Everywhere!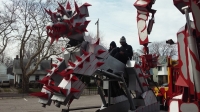 On Saturday, March 19th, families with pre-k children learned about robots at O.H. Perry. Not only did they discovered how robots can "clean the beach" they also saw some big robots up close. "Cosmo and the Robot," a children's book about a boy living in space with robots, was the inspiration for the day's activities.
The cold didn't stop anyone from going outside to see some robots up close. Children and parents alike were in awe as Tim Willis brought out the big robots and put them to action. The youth rode on the robot dog and discovered all their moving pieces. They even got to drive in a go-cart.
With a hex bug, craft supplies, and their imaginations, the kids created a machine that picked up cheerios, which emulated cleaning the beach. They also made their very own robot puppets. The event concluded with everyone enjoying lunch catered by Gus's Diner.
Julia DiBaggio
Resident of neighborhood since 1956. Worked on East 185th street since 1970.
Read More on School News
Volume 8, Issue 4, Posted 6:27 PM, 04.06.2016