Healthy Parenting: CAMHP Foundation and Siggy's Village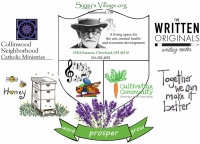 Healthy Parenting, hosted by CAMHP Foundation and Siggy's Village, will begin July 9th at 10am until 10:30am Saturdays at Collinwood Neighborhood Catholic Ministries located at 15706 St Clair Ave, Cleveland, OH 44110. There will be multiple discussion groups:
Modern Life as a Parent
How Are Your Children?
Pregnancy, Birth, and the First Five Years
Yoga
Culinary Education and Cooking Class
Completion of all events and classes will allow graduates to receive adult and children sized helmets and bicycles, portable full-sized grocery carts, as well as a bag of groceries after each discussion. Light snacks will be provided as well as childcare. Please contact Karen Zigman or Carol Hartman at (216) 282-4596 or healthyparenting.camhp@gmail.com to request services and to RSVP as space is limited.
This program is sponsored by Neighborhood Connections, Collinwood Neighborhood Catholic Ministries, and Siggy's Village.
Danielle Dronet
Danielle Dronet: Center for Advanced Mental Health Practice and Foundation, Siggy's Village
Read More on Events
Volume 8, Issue 6, Posted 10:36 AM, 06.11.2016