Veteran's Park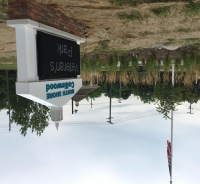 I wish to publicly thank our Veterans and all those who participated in and attended the dedication of Veteran's Park on the afternoon of Sunday, June 12, 2016. It was a beautiful day for this and I appreciate the support, as does, I am sure, the Councilman.
Remember, this is your park. Please help us to keep it clean. The grass is growing in nicely and the rain garden is a great addition. The new LED community sign board is operational. It will showcase events, meetings and activities significant to the community and will be a great way market the community as well.
Plans are underway to do more activities in the park throughout the year. If anyone has an idea or would like to work on this, please let me know. Speaking of activities, we will be hosting a "September 11 remembrance event" on SATURDAY, SEPTEMBER 17, 2016 beginning at 10:00 AM. Please join us.
Read More on Events
Volume 8, Issue 8, Posted 1:19 PM, 08.11.2016