Are you cat crazy? Prove it!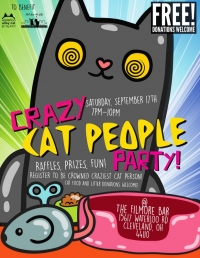 Do you think you have what it takes to be crowned the Craziest Cat Person? You can prove your feline dedication all while benefitting the Waterloo Alley Cat Project and Tails From The City; two local organizations that work endlessly to provide medical care, food and shelter for area homeless cats. Saturday, September 17 will be the Crazy Cat People Party at The Millard Filmore Bar (15617 Waterloo Road) from 7pm-10pm. Admission is free, but donations of cat food and litter is greatly appreciated. There will be a small registration fee to enter the Craziest Cat Person contest which can be done at the Filmore that evening. Wear ALL of your cat gear: shirts, hats, jewelry, shoes...you name it! Guests will cheer loudest for the craziest cat person. Winner will receive a basket of goodies as well as the title of Craziest Cat Person! Several raffle prizes will be available to bid on from various local merchants. All monetary profits will go directly to help care for Cleveland area cats in need. Wearing cat clothes and accessories is not mandatory to enjoy the fun and help kitties.
Show your feline spirit! Don all of your crazy cat paraphernalia and register to be bestowed the honor of Craziest Cat Person while helping our fantastic fury feline friends!
Saturday, September 17th, 2016
7:00 to 10:00 pm
At The Millard Filmore Bar
Benefitting the Waterloo Alley Cat Project and Tails From The City.
Jessica Manko
I am a founding member of Waterloo Alley Cat Project and work part-time at PetFix in Euclid.
Read More on Events
Volume 8, Issue 9, Posted 5:03 PM, 09.09.2016