I Canít Wait to Welcome You to Girl Scouts!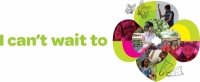 Everyone knows Girl Scouts and their three C's: cookies, camping and crafts. But did you know there's a method to the cookie madness? The way that all these activities happen is the secret of Girl Scouts' success for more than 100 years. Whether they're learning new skills and earning badges, designing their cookie booth, or deciding how to spend their profits, Girl Scouts are girl-led. By giving girls a chance to explore different perspectives and opportunities to make a difference, Girl Scouts inspires girls to give back and share the good.
Back to school time is also Back to Troop time for Girl Scouts, and troops are forming right now in Collinwood. Whatever your age and wherever you go to school, you can join now and get in on the fun. We'll be forming troops at a meeting on Sunday September 25, at 4:30 pm at St. Casimir Parish's lower hall, 18025 Marcella Road.
Now, you may be wondering, how much does Girl Scouts cost? It's only $15 to belong to the biggest girl-led organization in the world. Financial assistance is available to those who qualify, and there are lots of free and fun activities in our area for troops to participate in. Plus, as the girls raise money, they'll have funds to pay for badges and to explore and do even more.
But we're not just looking for girls. The girls need compassionate adults to guide them toward reaching their full potential. Take a chance on the amazing opportunity to empower girls right here in Collinwood. Volunteer roles range from tracking paperwork, keeping the books, helping with badgework, to driving and being a helping hand. We have cookie dads, leader-aunts and big sisters, and even a few ladies who don't have a daughter of their own but want to be a part of this powerful movement.
One benefit of being among the first to volunteer is that you get to set the time, place and frequency of meetings that works for you. Some troops meet once a week after school for 45 minutes, some meet once a month for 90 minutes, it's all up to those who take that first critical step forward. And, best of all, you're not taking that step without a safety net! You'll have the support of experienced leaders here who can share resources, tips & tricks, and include you in fun traditions like the annual World Friendship fair.
If you can't make the meeting on Sept. 25th, or want to get a jump on forming a troop, visit gsneo.org/join. I can't wait to help you find the fun in Girl Scouting!
Read More on Community
Volume 8, Issue 9, Posted 5:03 PM, 09.09.2016