Free Spay And Neuters Offered At The Cleveland APL For National Feral Month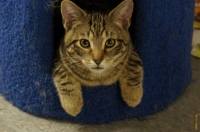 North Collinwood continues to be a district with where a significant number of feral cats live and need help. Cat over-population is a constant struggle and the Waterloo Alley Cat Project has worked continuously since 2009 to help maintain and control the population of feral cats in their targeted area around the Waterloo Arts and Business District by spaying and neutering over 300 cats.
This past year someone had been dumping dozens unsterilized friendly cats and kittens into the area, costing WACP thousands of dollars. As one volunteer explains, "Our group was mystified as to where all these cats were coming from because we know every cat that resides in our neighborhood. All of our Waterloo cats have been fixed and we keep track of them daily. These abandoned cats were not feral cats either; these were someone's pets!
A resident was finally captured on video surveillance this past July dumping a litter of friendly kittens right into the middle of traffic at night and the incident was reported to the Humane Investigations at the APL. All of the kittens were rescued, taken to the vet and adopted into loving homes. Thanks to the generous support from people all over Cleveland, donations were sent to help defray the costs of caring for the frightened, abandoned kittens. WACP has decided to use a portion of the donated money and offer 100 free feline spay and neuters to residents who live in the North Collinwood zip codes 44110 and 44119. This program will be available through the Cleveland APL's TNR Clinic during the months of October and November in honor of the rescued kittens and to celebrate National Feral Cat Month 2016. To make an appointment or get more details, you may call the APL TNR Clinic Coordinator at 216-377-1624.
Effective September 13, 2016, Ohio lawmakers passed a law that makes it a fifth-degree felony to knowingly harm a pet by inflicting pain or depriving it of food, water, or shelter – for a first offense. The bill was nicknamed Goddard's Law after Dick Goddard, a Cleveland weatherman who has advocated for strengthening the penalties against animal abusers for years. HB 60 will make it illegal for anyone to "knowingly torture, torment, needlessly mutilate or maim, cruelly beat, poison, needlessly kill, or commit an act of cruelty against a companion animal."
WACP helps as many cats as possible, but it takes an enormous amount of volunteer time and money to carry out their mission. Donations are always welcome and appreciated. Please make checks payable to Northeast Shores Development Corporation, a 501(C)(3) non-profit organization which acts as fiscal agent for the Waterloo Alley Cat Project. Please write WACP in the memo line of your check and mail to: P.O. Box 19246, Cleveland, Ohio 44119.
Deborah Gulyas
Merchant on Waterloo Road: Blue Arrow Records. And, lover of cats.
Read More on Community
Volume 8, Issue 10, Posted 7:55 PM, 10.03.2016