Itís Back to School for Second Grade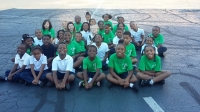 No longer hanging onto mom's apron strings, the Second graders of St. Jerome School are taking a flying leap into their education. We start our day with prayers and learning about the Ten Commandments. We expect to pass Father Bill's Ten Commandment Challenge as we also learn about becoming better Christians.
Our day continues to pack our brains with knowledge as we practice expanding our addition and subtraction skills, phonetically recite the alphabet, and read, read, read chapter books. As Second graders, we are introduced to maps and globes which help us to learn about the oceans, continents, countries, and our community. We use an on-hand approach to Science in making a hypothesis, conducting experiments, writing down our discoveries, and sharing our conclusions from gravity to how plants grow. Yet, as busy as our day seems, we still have time to learn cursive writing, create apples out of construction paper, and "play" the drums on our desktops.
The typical Second grader day ends on a "happy" note as we prepare for home by singing a song, telling a joke, and sometimes listening to what the teacher is telling us, then saying our Guardian Angel prayer. We find ourselves going home, tired and worn-out from all the knowledge we acquired and fun we had throughout the day. Yes, we need our sleep only to prepare us for the next day's excitement at St. Jerome School.
Monica Marolt
Second Grade teacher at St. Jerome School
Read More on St. Jeromes
Volume 8, Issue 10, Posted 7:55 PM, 10.03.2016